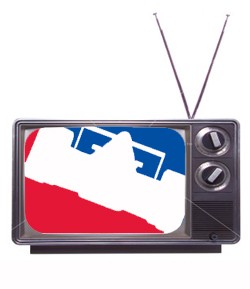 The Indy Racing League TV ratings took a step back at Kansas this past Sunday. After posting TV viewership gains for the Long Beach race April 19, the IRL earned a .15 rating nationally (.3 share) for the Road Runner Turbo Indy 300 at Kansas Speedway on April 26.
The race that began airing at 4 p.m. (actually pre-race at 4 p.m. and race at 4:45 p.m.) drew viewership from 171,000 households nationwide. The race, the IRL's third this season and first oval race, fared much better in the Indianapolis market, earning a 1.0 rating (2 percent share), or about 11,000 households.
The rating at Kansas paled compared to the .5 (388,864 households) the IRL race at Long Beach earned. The season opener at St. Petersburg on April 5 earned a .3 rating (233,000 households). The NASCAR Nextel Cup race overlapped the IRL race Sunday. The week before, the NASCAR race ran on the Satruday before the Sunday Long Beach race, and likely helped boost the ratings there. 
Bolstered by Danica Patrick's victory a week earlier in Japan, the 2008 IRL race in Kansas earned a .74 rating on ESPN2, which means about 740,000 households tuned in.
After airing its first three races this season on Versus—the league's new TV partner—the next two races, Indianapolis (May 24) and Milwaukee (May 31), will air on ABC. Versus will cover qualifications and Carb Day at Indianapolis.
Though Kansas Speedway and league officials did not release any attendance numbers, several team executives said it looked like the size of the crowd at this year's race was down in Kansas due to windy conditions that made racing difficult and the threat of rain.
Please enable JavaScript to view this content.