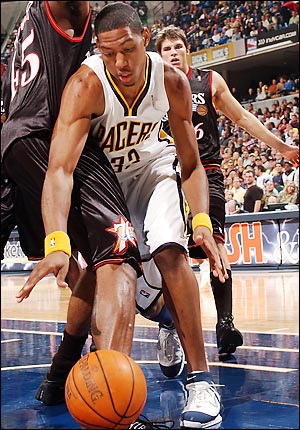 Earlier this week, I pointed out the Indiana Pacers' 14,182 attendance this season was 28th out of 30 National Basketball Association teams. I also pointed out, the team's attendance represented a big increase from last year's league worst figure.
After a little more slicing and dicing, I've discovered that the Pacers 17.5 percent attendance increase this season is second in the league. The New Orleans Hornets, who averaged 16,968, had a 20.3 percent increase. The Philadelphia 76ers had the third biggest increase at 7 percent.
The biggest losers were the Sacramento Kings with a 10.2 percent attendance decrease, the Washington Wizards with 7.8 percent and Miami Heat 6.4 percent.
The Pacers' attendance increase no doubt had to do with deeply discounted ticket prices, but also an aggressive marketing and sales program which included everything from $5 tickets to a limitless concession stand snack food package.
Pacers President Jim Morris told IBJ in February that the Pacers this year are bringing in more than $400,000 per game below the $900,000 league average in ticket revenue. But if some of this year's samplers become season or partial season ticket holders next year, the gamble could pay off. The attendance increase shows the foundation is laid.
Please enable JavaScript to view this content.