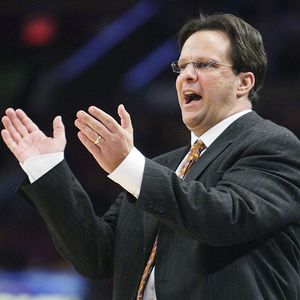 Big news out of Bloomington … basketball coach Tom Crean is Twittering. Pardon me, he's tweeting. He began about two weeks ago. Actually, it is rather cool, and pretty forward thinking too. Crean even got his buddy, Kentucky coach John Calipari tweeting as well. And they are having something of a competition to see who can tweet more and who can get more followers.
As of this afternoon (April 30), Crean has 2,977 followers and Calipari has 3,157. Crean recently tweeted that he is more concerned with winning the battle on the hardwood against UK than he is with winning his personal tweeting war with Coach Cal. Hoosier fans everywhere just breathed a sigh of relief about that—at least I think winning basketball games is still more important than tweeting. But at this point, who knows, especially with today's pre-teens, teens and tweens.
Crean and Calipari are hardly alone in their venture into Twitterville. About 50 college football and basketball coaches nationwide are tweeting. USC football coach Pete Carroll, Tennessee football coach Lane Kiffin, Notre Dame coach Charlie Weiss and West Virginia basketball coach Bob Huggins are among the tweeting masses. And LSU football coach Les Miles announced this week he will be tweeting live during games. To quote the late Harry Caray, H-o-l-y cow!
It's a great public relations tool for the coach, the school and the program. Some coaches are hailing it as the next great recruiting tool. Crean's recent tweets include comments about IU football coach Bill Lynch, the football team's dismissal of Kellen Lewis, his relationship with Calipari and the IU basketball players' spring workouts.
The NCAA has already weighed in with its regulations regarding twittering. College coaches can't follow other peoples' tweets, nor can they respond to their followers' questions.
The NCAA isn't the only one regulating Crean's tweets. His wife, "put her foot down," according to one of Crean's recent tweets, and won't let the coach tweet while driving.
Please enable JavaScript to view this content.