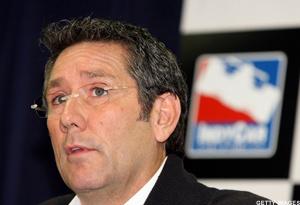 I wrote an article about the Indy Racing League's long-term future for this week's IBJ print edition that is getting quite a bit of attention from our readers. There are several reader comments posted under the online version of the story. One comment claimed I took a quote by IRL and Indianapolis Motor Speedway Chairman Tony George out of context. That quote involved George saying the series better be profitable by 2013 or "there won't be a 2013."
The anonymous commenter said he was at the New York event where George made the comment, and that George made the comment with a broad smile and a big laugh. The commenter implied that George was not serious about folding the series if it is not profitable by 2013. I was not at the New York event when George made this comment, but I talked to several people who were. They said George seemed pretty serious about getting the series into the black.
Estimates put George's losses at more than $250 million since forming the IRL in 1996. George doesn't talk financials. Never has, and I'd be amazed if he ever does. So, the $250 million figure is, just that, an estimate. But it's an estimate calculated by several motorsports business experts that I think have the insight to peg the figure pretty closely.
Before the anti-IRL corner starts howling about how poorly managed the series is, my print story also points out Champ Car/CART lost money seven of its last eight years. Due to space constraints, some of my CART financial details were cut from the story. So I'll share those now.
CART's losses went from $8.5 million in 2001 to $24.7 million in 2002 to a whopping $93.6 million in 2003.
Team subsidies skyrocketed from $15.4 million in 2000 to $60.9 million in 2003. CART didn't spend a dime to promote races in 2000 and 2001, with that expense falling to host venues. But in 2002, CART paid $9.7 million for race promotions and in 2003 that line item increased to $20.8 million.
In 2000 and 2001, CART brought in more than $5 million in television revenue, but in 2002 and 2003, the series shelled out $11 million and $15 million respectively to buy TV time. CART's total expenses escalated from $58.8 million in 2000 to $143.3 in 2003.
What can you take away from all of this CART information? It shows the IRL needs to bring in (based on what we know it pays for and is paid for) between $60 million and $75 million to meet expenses.
George wouldn't talk to me for the article, and neither would IMS President Joie Chitwood. But Terry Angstadt, president of IRL's commercial division, did. Angstadt seemed to take George's comment seriously. "I'm familiar with the comment," Angstadt said straight faced when I asked him about George's statement in an interview last month.
He then detailed the challenges the IRL has faced and must conquer, including the costs of unification. Angstadt added: "I'm 100 percent confident we will have a long-term sustainable model by 2013."
To get more objective odds, I asked some of my more trusted motorsports business savvy sources to handicap the likelihood of the IRL reaching profitability by 2013. Their answer: 70 percent.
So, what do you think?
Please enable JavaScript to view this content.