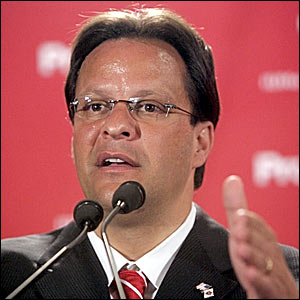 Indiana University basketball coach Tom Crean—and his connection to the Harbaugh family—will be the focus of a documentary produced by NFL Films.
An NFL Films crew visited Bloomington last week to film Crean with some IU players for the documentary to be released as part of the weekly NFL Films Presents series. The Crean-Harbaugh feature will air in September or October on ESPN2. At the NFL owners meetings in March in Dana Point, Calif., NFL Films President Steve Sabol shot a roundtable conversation with Crean, Crean's father-in-law Jack Harbaugh and brothers-in-law John and Jim Harbaugh.
Jack Harbaugh is a retired college football coach, while Jim, a former Indianapolis Colts quarterback, is now head coach at Stanford and John is the head coach of the NFL's Baltimore Ravens.
"We thought it'd be interesting to talk to these guys about what it takes to be a successful coach, what drives them," said NFL Films Producer Chris Barlow. "If you like sports and are interested in what drives people at the highest level of their game, this is a show you're going to want to see."
Barlow said Crean is just the second basketball coach to be the focus of an NFL Films production. "We did a show 10 years ago with (former San Francisco 49ers and Detroit Lions coach) Steve Mariucci and (Michigan State basketball coach) Tom Izzo," Barlow said. "That's the only other time something like this has been done."
The dynamics between Crean and the Harbaughs is what drew NFL Films to the project, Barlow said.
"It's really interesting how big an impact these guys have had on each other," Barlow said. "When one succeeds, they celebrate together, and it's a huge inspiration to the others. And when one is met with defeat, they all feel it. It's an extremely close family."
NFL Films officials said Crean "was terrific," and could have a future as a TV commentator or analyst some day. Jack Harbaugh told NFL Films Crean could have just as easily been coaching in another arena.
"With his competitive drive," Jack Harbaugh told NFL Films, "he could have been a great linebackers coach."
Please enable JavaScript to view this content.