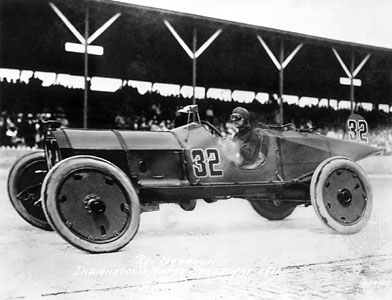 The Indiana State Library is hosting a special Indianapolis Motor Speedway/Indy 500 program this Thursday from 5 p.m. to 6 p.m.
The program—which is free and open to the public—will provide a historical perspective on The Greatest Spectacle in Racing and include discussion of drivers ranging from Carl Fisher, Mark Donahue and Graham Hill to Mario Andretti, A.J. Foyt and Tony Stewart.
The program will feature lots of show-and-tell using some of the State Library's unusual historical resources and materials, including such things as official entry blanks and lap prize lists from bygone races, decades-old Indianapolis 500 yearbooks and archived newspaper clippings from the library's extensive collection.
Program presenter Rachael Heger, the library's Indiana Collection Area Supervisor, also will delve into a number of interesting Speedway facts, including historic victories, infamous crashes and even deaths at the track. Attendees will also be shown how to do their own research into their favorite Speedway happenings using the State Library's collection.
Attendees are asked to enter the library through the 315 W. Ohio St. entrance. For additional information call 232-3675 or visit http://www.in.gov/library/events.htm.
Please enable JavaScript to view this content.