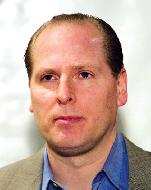 Former Indiana Pacers executive David Kahn has surfaced as the leading candidate to replace Kevin McHale as Minnesota Timberwolves general manager. Former Pacers player Fred Hoiberg is being considered for a vice president position within the Timberwolves front office.
Kahn, a former Portland Oregonian sports reporter and columnist who later earned a law degree, was Donnie Walsh's right-hand man in helping lobby to get Conseco Fieldhouse built. Kahn, 47, also was the Pacers' point man on Fieldhouse design and construction issues. When Kahn joined the Pacers in November, 1995, there was still debate about whether Conseco Fieldhouse was necessary. Some local folks were still arguing that an updated Market Square Arena would suffice. Kahn was key in winning support for the project from City-County Councilors and Capital Improvement Board members.
Kahn parted ways with the Pacers in 2002 to return to Portland with his wife—who has a successful business there. Since leaving the Pacers, Kahn was instrumental in getting the NBA's Developmental League on its feet, and operating several teams. Kahn later served as leader of an unsuccessful effort to bring Major League Baseball to Portland.
Please enable JavaScript to view this content.