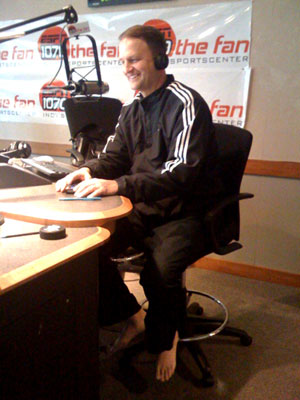 The battle for sports talk radio supremacy in central Indiana rages on—and is delivering some unlikely results. The biggest winner in 2009's first quarter radio ratings is basketball coach turned on-air personality Dan Dakich.
More than a few listeners scoffed last October when Emmis Communications officials replaced national talk show host Colin Cowherd with Dakich, who was a communications major in college but had no previous radio experience. But the former Indiana and Bowling Green coach has flourished at the 10 a.m. to 1 p.m. time slot.
Dakich earned a 2.9 rating for men 25 to 54, which is a key demographic for sports talk radio. That means Dakich is attracting 2.9 percent of the radio listening audience in that demographic set in this market at the time. That's a solid rating for niche programming. Even more impressive, Dakich scored a 3.4 rating for all men 18 years old and older. That's up from his first quarter on the air, when he registered a 2.5 rating. Ratings are tabulated by New York-based Aribitron Inc.
Dakich has the good fortune of following ESPN's popular nationally syndicated Mike and Mike show, which also airs on WFNI. But he also goes up against nationally syndicated Dan Patrick and Jim Rome, whose shows are on WFNI's chief rival, WNDE-AM 1260. Dakich's ratings are outpacing WNDE's during his time slot.
During the important afternoon drive slot (3 p.m. to 7 p.m.) Clear Channel-owned WNDE, which has been doing sports talk for well over a decade, maintains an advantage over WFNI. The Drive with JMV hosted by John Michael Vincent still sits atop the ratings heap, scoring a 3.9 with men 25 to 54 and 3.1 with men 18 plus.
WFNI, whose afternoon drive show is anchored by Indianapolis Star columnist Bob Kravitz and former Reebok executive Eddie White registered a 2.6 with men 25 to 54 and a 2.5 with men 18 plus. Perhaps most encouraging for WFNI, the Kravitz and Eddie Show has seen its ratings increase among key demographics almost every quarter, moving up from its 1.7 rating in the spring, 2008 quarter.
WXLW-AM 950 is a distant third in the sports talk war, and its efforts won't be helped by the defection by on-air personality Greg Rakestraw, whose last WXLW show will be today. Rakestraw, who is largely the face of the station, has hosted WXLW's afternoon drive show since 2002.
Please enable JavaScript to view this content.