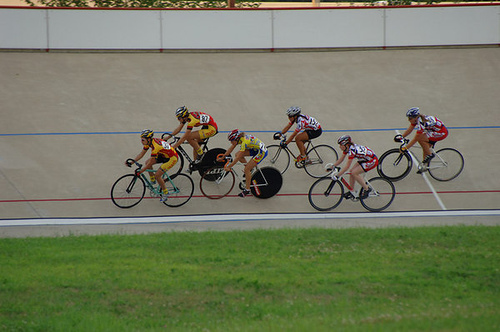 While the Marian College cycling team has been off hunting national championships in Colorado, school officials' plan to manage the Major Taylor Velodrome has not yet won support from Indy Parks.
Marian College officials late last year forwarded a plan to manage the facility, which included upgrading the locker rooms, concession areas and other infrastructure, marketing the facility regionally and nationally to bring some of the biggest track cycling events to the facility, starting a week-day circuit race—or criterium—series on the streets and paved trails around the Velodrome and using the city's trail network to the Velodrome to make it more of a destination for commuters, cycling aficionados and outdoor enthusiasts.
Marian's plan also included enhancing off-road riding infrastructure for BMX, mountain and cyclecross bikes, as well as a two-mile perimeter loop for walking, running and leisure riding. Combined with trails in the Marian College EcoLab, an outdoor nature preserve of sorts, the new loop would make available a walking/hiking trail of almost five miles. Enhancing activities at the adjacent skate board park and Rugby field also are part of the plan.
It seemed like the perfect partnership for the school, which is about a half-mile from the Velodrome, and Indy Parks. A memorandum of agreement was drafted earlier this year, but the deal was never finalized.
"Marian continues to be a potential partner," said Paula Freund, Indy Parks spokeswoman.
But Freund added that "several" organizations are interested in partnering with the city and making a "significant investment to the Velodrome." She emphasized that any plan will have to consider the larger Lake Sullivan Sports Complex.
Indy Parks officials are issuing a request for information to gather a "broad spectrum of ideas and input" on the larger complex and a request for proposal for companies and other organizations interested in operating the Velodrome.
Marian officials in December told IBJ they hoped to launch enhanced programming at the Velodrome this spring and summer. Those plans are now on hold. Freund said the 27-year-old Velodrome facility needs "$750,000 just to bring it up to standard." The track itself, she said, is in good shape. Indy Parks officials have now set a fall deadline to have the future of the Lake Sullivan Sports Complex mapped out, she added.
"We're excited about the potential for partnering and gathering new ideas," Freund said. "Public access to these facilities will be a key concern going forward."
Please enable JavaScript to view this content.