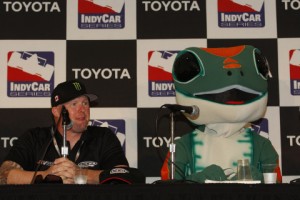 Paul Tracy has already said he is in the Indianapolis 500 to win. Tracy's driving skills are not questioned, and the top end speed of his car is not at issue. But motorsports insiders wonder if the team is well-financed enough to field a crew that can put the plucky Canadian in the winner's circle.
With seven or eight pit stops usually needed to steer through the Indianapolis 500, keeping up with the Penske, Ganassi and Andretti Green crews will be critical. One pit stop mishap could spell the end of Tracy's efforts to upset the favorites.
Yesterday afternoon, Mark Johnson, the general manager of Tracy's team, KV Racing Technology, told IBJ that team finances or the quality of the crew should not be an issue either. He also said there's no problem with the number of tires his team has.
"We've got 100 percent confidence in these guys," Johnson said from the team's Indianapolis garage. "Everybody going over the wall for Paul's team this year is the same as last year minus one. We've been working with PitFit to keep these guys in shape, and we have great chemistry."
While Tracy, who qualified 13th with a four-lap average of 223.111, is racing to gain speed, Johnson is hustling for cash.
"Paul has an amazing following, and not just in Canada," Johnson said. "So working with him definitely opens some doors. Paul's performance over the weekend really ratcheted up interest from potential corporate partners. We're really optimistic we're going to be able to put two or three more sponsors on that car by race day."
Tracy's crew is 13-strong now, Johnson said, and aside from two or three race day spotters and runners, the team is in place to assist Tracy through the rest of this season. Tracy, who brought in Geico as a primary sponsor, is only signed for Indianapolis right now. But Johnson has not discounted the possibility of expanding that schedule.
"If we can put together a program for Paul to be on the track more, we certainly will," Johnson said. "We're talking to potential partners on a day-to-day basis."
Johnson isn't targeting any particular races in which to put Tracy on the track, though he admits two Indy Racing League races in Canada later this year would be nice additions. "He has had a lot of success in Milwaukee, and we know he can be competitive on any road course," Johnson said. "Really, any time Paul is on the track, we think he can be in a position to win."
Please enable JavaScript to view this content.