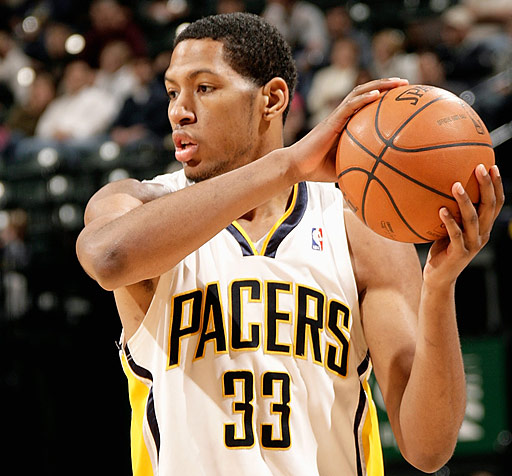 Questions linger about Indiana Pacers forward Danny Granger.
Can Granger, who was named yesterday as the NBA's Most Improved Player for the 2008-09 season, become a lock down defender ala Ron Artest and Kobe Bryant?
Can Granger develop the killer instinct of legends like Michael Jordan and Larry Bird?
But there's a bigger question. And the future of the Indiana Pacers franchise may depend on it.
Can Danny Granger become the face of the franchise and ignite this city into a blue and gold frenzy the way Reggie Miller did?
Without that, the Pacers will continue to play before empty seats and owners Herb and Mel Simon will continue to lose money. And eventually, someone will ask the question, "Would the Pacers be better off in another market?" Actually, someone slightly north of the U.S. border might already be asking that question.
But Granger is the one person who can put all that to rest, and even may be able to make the blue and gold nation forget the letters C-I-B.
That's a lot of pressure for a 26-year-old. But the Pacers and city of Indianapolis need this young man to stand up and do more than hit jump shots. They need him to be a leader on and off the court. He is already showing great promise. He says all the right things. Now he needs to do all the right things.
That means showing dedication to training to be the absolute best that he can be. And yes, he can be quite a bit better. Pacers coaches and NBA scouts agree on that. It also means he needs to step up in a big way off the court. Granger is a Louisiana native who played college ball in New Mexico. Now he has to prove to this community that he's an Indiana guy.
"Danny Granger's becoming the face of the franchise isn't going to be done just because he or the franchise wants it to be done," said David Morton, president of Sunrise Sports Group, a locally based sports marketing consultancy. "It has to be done strategically and over a prolonged period of time. He needs very clear one-, three-, and five-year goals."
The effort, Morton said, needs to start with Granger replacing Mike Dunleavy on billboards and in Pacers ad campaigns. Morton also called on Sam Perkins, Pacers vice president of player relations, to step forward and craft a plan to take Granger to the next level.
"What do we know about Danny Granger?" Morton asked. "He's a good jump shooter. Fans need to know more."
But wait a minute. Didn't Reggie Miller become the face of the franchise mainly by foisting the Pacers on his shoulders at times, slaying the N.Y. Knicks in Madison Square Garden a time or two and leading the franchise to the 2000 NBA finals. Was it really part of a strategic effort? No, Morton responded, but times are different.
"This franchise is coming off a very difficult period, and the state of the NBA is in a different place," Morton said. "Danny Granger has to get out in the community, partner with select organizations and causes, and show he really cares about this city. That's what creates fandom. That's what sells tickets."
Creating fandom. Selling tickets. Now that's something we can all cheer about.
Please enable JavaScript to view this content.