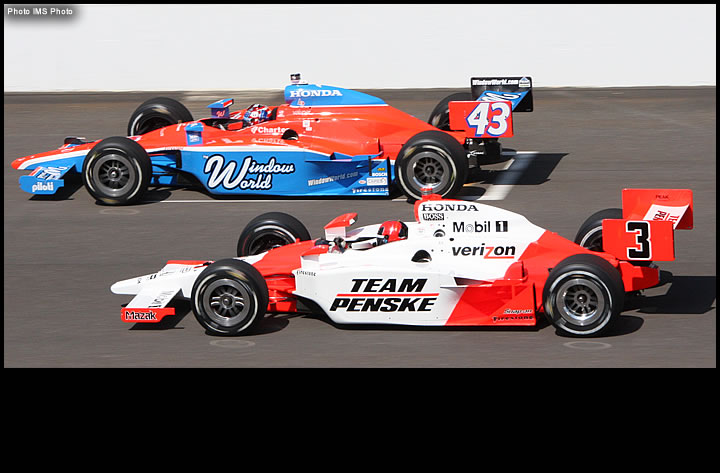 No, the 1970s haven't returned at the Indianapolis Motor Speedway. Still, there are a few signs at the Brickyard today that indicate a nice sized crowd has arrived on the west side of Indy—despite the sagging economy. And no, the IMS has not reversed an age-old practice of withholding attendance figures. So that leaves us with reading the signs and tea leaves to gauge the crowd.
The first significant sign is this: IMS announced the earliest closing of infield and north 40 parking since moving Carburetion Day to Friday in 2005. As the IRL drivers were out practicing today and the Indy Lights drivers readied for their race, the Pagoda Plaza and garage areas were very crowded and buzzing with activity.
Traffic earlier this morning was backed up on 16th Street beyond Longs Donuts. I hope you got your pastries early. Longs officials were reporting a sell-out. Don't worry race fans, the pastry and doughnut fryers are working overtime to re-stock the shelves.
The Coke lot looked like it had been the scene of a pretty big party last night, and it appears a much larger crowd will be there tonight and Saturday.
Inside the track, the Tower Terrace seating area was quite full, with fans eager to get a good seat for the pit stop competition. There also seemed to be a fairly diverse crowd at the track, with a fair bit of activity in the corporate hospitality area. IMS officials still expect high-end corporate hospitality traffic to be down a bit this year due to the economy. Speaking of the high-end corporate set, Conrad Hotel today signed a sponsorship deal with Conquest Racing and will put its logo on Alex Tagliani's car for this year's Indianapolis 500.
There were also lots of families and children at the track today as well as scads of hardcore race fans and a fair number of people just looking for a party or who came to enjoy the concert this afternoon. Again, it's not the heyday of the 1970s and 80s, but today's crowd certainly would be measured in the tens of thousands range.
There also seemed to be quite a bit of activity at the merchandise booths and tents, with Hot Wheels replica cars selling well. Not surprisingly, the hottest selling products are Danica Patrick related items, according to those manning the booths. Sarah Fisher items also are selling well.
Other items reportedly selling well are those commemorating the centennial celebration of the track. I'll try to get more specific information on sale figures after the race concludes.
Please enable JavaScript to view this content.