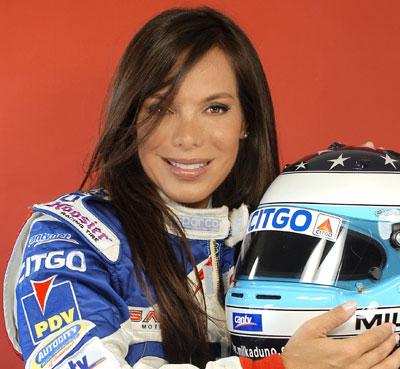 There seems to be an increasing uproar in the Indy Racing League paddock that driver Milka Duno is a 200-mile-an-hour hazard that league officials need to deal with. The crew on Wind Tunnel lambasted the Venezuelan driver after Sunday's Indianapolis 500, and one race commentator called her a moving chicane.
Driver Graham Rahal also had some stern words for Duno, after he was involved in an accident he claimed she caused.
"Milka got in front of me, and she was absolutely clueless," Rahal said. "She would go low like she was going to let everybody by, but then she'd go fast enough where you can't get by her. She would come out on track and run you real tight."
Motorsports insiders said now that Duno is taking out potential stars like Rahal, the caution flag may soon be coming out for her.
Duno's dust-up with Rahal wasn't her only on-track incident, with a few other near misses getting less on-camera attention. "She needs to learn how to be a consistent car in traffic—even Marty Roth could handle that," said Joe Berkemeier, of TrackSide Online.
Since IRL officials all but pulled the plug on Roth's on-track efforts, some within open-wheel racing's inner circles are wondering if the same fate awaits Duno. But Duno is still popular with fans and brings some solid corporate partners to the series, including Citgo.
Dennis Reinbold, owner of Dreyer & Reinbold Racing, is standing firm behind his driver. He emphasized that no one from the IRL has called to warn him or Duno about her driving.
"It looked like to me she did a text book pit entry," Reinbold said of the incident between Duno and Rahal. "She did what she was supposed to do. Before Graham Rahal criticizes, he needs to look at the tape."
Claims that Duno was a moving obstacle at Sunday's Indianapolis 500 are nonsense, Reinbold said. He pointed out that she finished 20th, only one lap behind winner Helio Castroneves.
"She was at race pace all day," Reinbold said. "She's come a long way as a driver and continues to improve. People need to keep that in mind."
Reinbold added that Duno's fan popularity has never been higher, and that he considers her an asset to the series.
"Fans love Milka because Milka loves the fans," Reinbold said. "She's an upbeat person who is great to work with at every level."
Please enable JavaScript to view this content.