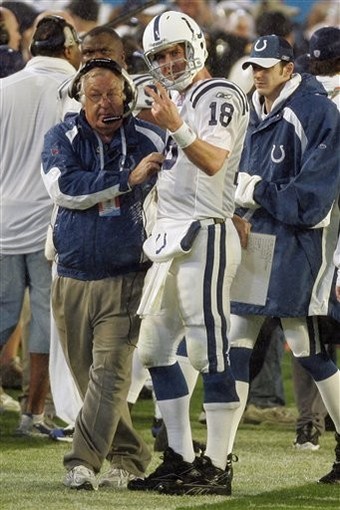 Indianapolis Colts quarterback Peyton Manning isn't the only one confused about the future of coaches Tom Moore and Howard Mudd. Colts President Bill Polian said he too has found it hard to follow the developments involving Moore and Mudd's situation. But late yesterday, the Colts got some clarity on the matter.
Larry Kennan, executive director of the NFL Coaches Association, informed the Colts that Moore, the recently retired offensive coordinator, and Mudd, the long-time offensive line coach, can return immediately to the team—as consultants. Moore and Mudd retired two weeks ago to avoid losing money under the NFL's revised pension plan.
Kennan said the matter was clarified after a discussion yesterday with an attorney representing the Employment Retired Income Security Act.
Initially, the Colts thought they would have to wait three to six months after their retirement to hire back the two coaches. Kennan himself previously told Colts officials that the two could not work for the team again—in any capacity—until mid December. But yesterday, Kennan said as long as Moore and Mudd work as independent contractors and pay their own taxes for at least the next six months, they can return immediately.
That should come as a relief to Manning. Moore is the only offensive coordinator Manning has worked with during his NFL career. Mudd has 35 years experience as an NFL offensive line coach, the last 11 with the Colts.
Please enable JavaScript to view this content.