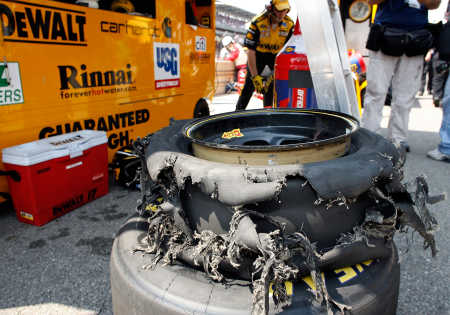 Most recall Indianapolis Motor Speedway boss Tony George's proclamation following last year's Brickyard 400 NASCAR race. George said the problems that plagued the Goodyear tires on the fendered cars were issues for NASCAR and Goodyear to handle. It was not the IMS' problem, he added.
I wonder how he feels about that now. Yesterday was a whirlwind of activity at 16th and Georgetown, which included a report by SpeedTV that George had been removed as Speedway boss. George held an impromptu press conference in front of the IMS about an hour after the news broke, denying the report. More than three hours after George's appearance, Speedway officials issued an official press release which said in part  "… board members asked Tony George, chief executive officer of the IMS companies, to devise a plan for management … that would allow him to focus on the business which requires the greatest attention. This plan is to be presented to the board at a meeting later this year."
It sounds an awful lot like a transition plan is in the works. Executives within the IMS and Indy Racing League told me yesterday that changes are coming. It's safe to say Speedway operations are under greater scrutiny now than ever.
That brings us to the Brickyard 400, which is set for July 26. The Brickyard has been a big financial boost to the IMS since it began in 1994, netting more than $35 million annually, according to motorsports business experts. A good bit of that has helped off-set costs for the Indy Racing League, which by George's own admission hasn't made a dime since its founding in 1996.
Speedway officials told IBJ in December that 2009 Brickyard 400 ticket renewals were way down and were in part why the Speedway laid off employees shortly before year's end. Ticket sales for the Brickyard 400 were down significantly more than the Indianapolis 500. The bad economy is no doubt part of the equation, but last year's tire troubles didn't help. It seems like the IMS has a lot to gain by working with NASCAR and Goodyear to solve these problems.
Last year, the race was yellow flagged every nine laps to avoid tire blowouts, in what many called the worst NASCAR race of the year. NASCAR officials told IBJ the problem is not completely solved. Recent tire tests showed the Goodyear tires might last 15 to 25 laps depending on the weather.
Twenty five laps is optimistic. One NASCAR insider said "one good rain" shortly before the race could wash all the rubber out of the racing groove and cause big problems with the race yet again. There is one more tire test scheduled before this year's Brickyard 400, where Goodyear will continue to wrestle with the rubber compound mix.
Tony George deserves a lot of credit for bringing NASCAR to the famed Speedway. Now he needs to assure the event remains the economic boon it has traditionally been.
If this problem isn't solved by race day, there may be another IMS board meeting sooner rather than later to address George's and the track's future.
Please enable JavaScript to view this content.