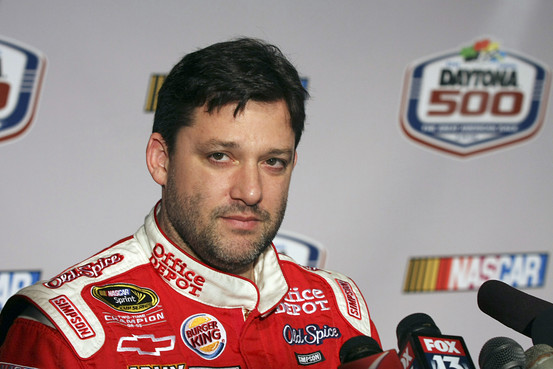 How serious is next week's NASCAR tire test at the Indianapolis Motor Speedway?
Goodyear, who was largely credited for ruining last year's Brickyard 400 NASCAR race, has called on one of its biggest critics for insight and input.
It is no mistake that NASCAR bad boy and Indiana native Tony Stewart will be one of nine drivers at the test—one of two before the July 26 race.
Stewart has been as vocal as any NASCAR driver in his criticism of the fendered series' tire provider. NASCAR insiders said Stewart was targeted for the test due to his criticism.
Goodyear is looking to avoid a repeat of last year's race, when a yellow flag had to be dropped every nine or so laps to keep the shredding tires from blowing out.
After last year's Brickyard 400, Stewart called Goodyear's tires junk. In February, after a practice crash involving a blown tire on his teammate Ryan Newman's car, which then collected Stewart's car, the driver affectionately known as Smoke said: "Apparently this is [Goodyear's] marketing strategy, to get press. I'm tired of talking about them, tired of it being an issue. Talking about them now isn't going to change anything; it falls on deaf ears."
Stewart continued to rant: "If two guys wrecked, that's one thing, but the manufacturer has the sole deal, they don't have any competition, and they can't give us a tire to keep us from having wrecks."
When asked if he wanted to talk to Goodyear executives, Stewart responded, "Don't bring 'em anywhere near me." Stewart is also on record saying Hoosier and Firestone tires would perform better than Goodyear, and that Goodyear is so bad it was run out of the Indy Racing League and Formula One.
Monday and Tuesday at the IMS, all ears will be waiting to hear what Stewart says next. And that includes Goodyear executives.
Please enable JavaScript to view this content.