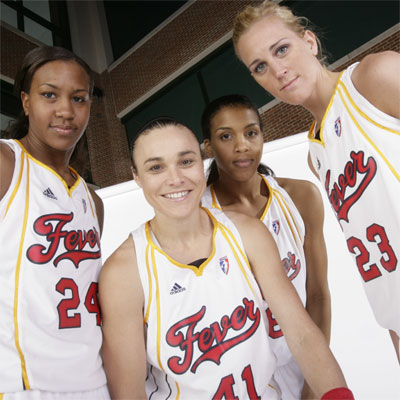 The news that the Indiana Fever is seeking a corporate sponsor to put its logos on players' jerseys might give fans the idea that the WNBA franchise is drowning in debt.
Not true, said team chief operating officer Kelly Krauskopf. While the Fever operation is not flush with cash, it is inching ever closer to profitability heading into its 10th season.
"We're just trying to move over the hump," Krauskopf said. "We're right on the cusp."
Despite the worst economic times since the Great Depression, Krauskopf said sponsorship sales are up 10 percent compared to where the franchise was a year ago.
"We got more aggressive and got out earlier this year with our marketing plan and our sponsorship sales," Krauskopf said. "We just got this asset out in front of people early and were able to get strong renewals and bring in a couple of new sponsors."
Season ticket sales (around 2,500) are roughly flat, but Krauskopf is hopeful that mini-season and single-game ticket sales will be up a bit this year. Krauskopf is hopeful a strong run by the Fever at a WNBA championships will help. She is confident she has built a team to compete for the title this year. The team's attendance was 7,702 per game last year, up 7.2 percent over 2007.
The good news is coming at an opportune time. Team co-owner Herb Simon (who also owns the Indiana Pacers) has said this is a critical year in evaluating the WNBA franchise and its long-term future here. Simon and Pacers President Jim Morris have been unabashed Fever supporters.
Krauskopf is undaunted by the make-or-break talk.
"Every season is make or break," Krauskopf said. "Every year we have to show progress. We're trying to build a business for Mr. Simon, that's the bottom line."
For a more in-depth profile of Krauskopf and her efforts to build the Fever franchise, see the June 8 IBJ.
Please enable JavaScript to view this content.