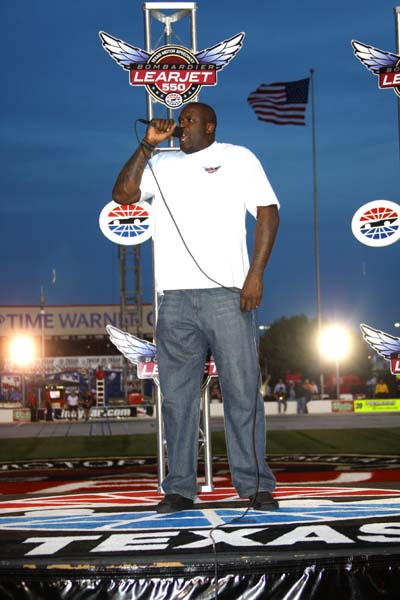 I almost choked on my Cheerios when the Indy Racing League led Sunday's 7 a.m. ESPN Sports Center. The same held true for 8 a.m. Heck, the open-wheel series was never the lead story when the World Wide Leader in Sports carried IRL races full-time.
True, Sunday's IRL lead-in was about 10 seconds. Still, hearing NBA great Shaquille O'Neal bellow out "start your engines" at Texas Motor Speedway's Saturday night race must have made Tony George all but forget that business with the Speedway board of directors.
The IRL finally has a star supporter who can make a ripple not only with marketers and sponsors, but with Joe and Mary Sixpack. Shaquille O'Neil is bigger than Gene Simmons, Ashley Judd and Gomer Pyle all rolled into one. While Denver Nuggets all-star forward Carmelo Anthony had a foray as team part-owner, that was clearly a marketing ploy which didn't get much response from just about anyone.
Shaquille O'Neal on the other hand seems genuinely interested in the sport. He talks about the series' diversity, and it makes news. He lauds the drivers as athletes, and TV cameras roll. He trades text messages with Danica Patrick, and it grabs headlines. He lifts tiny race car drivers over his head, and race-day spectators roar.
He certainly isn't here for the money. At Texas, O'Neal was a guest of Luczo Dragon Racing, with whom he's partnered to raise money and awareness for charity throughout the season. The IRL and Texas Motor Speedway wisely chose him as starter for the race and to sit shotgun with former Indy 500 winner Johnny Rutherford in the pace car.
Saturday night at Texas, he changed a tire on a Luczo Dragon Racing Indy car, then hoisted it high over head with one hand. Then the big man also known as The Diesel, The Big Cactus and Superman, picked up rookie driver Raphael Matos and hoisted him sky-high with equal ease. He's funny, he's charismatic, and he's just what the IRL needs. It's all Shaqtastic in the land of open-wheel.
Then in an unscripted endorsement, Shaq waxed poetic about the splendor of the series to a group of reporters at the Texas Motor Speedway.
"It's a beautiful thing, cultures uniting here at this event for one great cause," O'Neal said. "I've seen all the female drivers. Gorgeous, hot. I'll be looking to get one of those calendars. Not for me, for one of my friend's office. … Having a different mixture of people, different mixture of cultures, I think only enhances this sport."
If the IRL marketing staff isn't working right this second to craft a campaign featuring the man with four NBA championship rings, I'd be dumbfounded. A charity tie-in could help the series secure the big man's cooperation.
But not even Shaq's endorsement makes the IRL's success a slam dunk. The one thing the 7-1, 325-pound (looks more like 365 to me) O'Neal cannot do—change the product. That will have to stand (or roll in this case) on its own four wheels. But the big man can give it one heck of a push.
Please enable JavaScript to view this content.