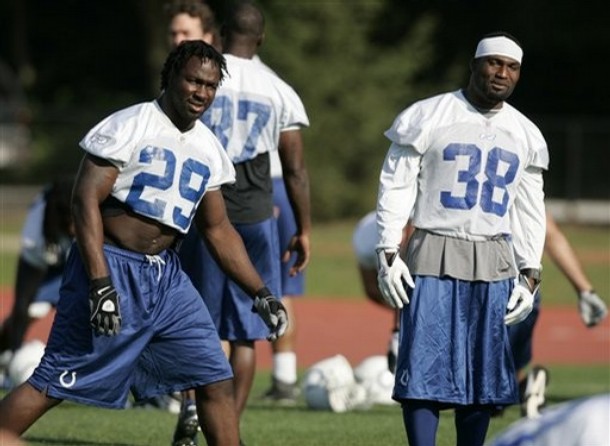 Two weeks after National Football League officials announced teams can sell an ad on players' practice jerseys, things are heating up at the Indianapolis Colts' 56th training complex—also home to the franchise's sales and marketing staff.
"We have proposals out there, and interest is pretty high," said Tom Zupancic, Colts senior vice president of sales and marketing.
The jersey ad has broad appeal Zupancic said. "It could be for a retail operation or branding in just about any category," he said.
Zupancic thinks his staff will have a deal signed by the time training camp opens Aug. 2.
Sports marketers said the practice jersey ads would be ideal for local or regional firms, and estimated a deal will wind up in the mid six-figure range in a market like Indianapolis. Similar deals in markets like Chicago, Dallas or New York would likely command high six figures or low seven figures. All the money will stay with the team and not be poured into the revenue sharing pot.
While the jersey sponsorship is being largely embraced by teams, there is some fear that it could widen the revenue chasm between the league's haves and have-nots. Further, teams that make the playoffs are allowed to sell a seperate practice jersey sponsorship for the playoff run that could further widen the gap.
The Denver Broncos, Dallas Cowboys, Detroit Lions, Green Bay Packers, Houston Texans and Tennessee Titans are among the teams seriously considering practice jersey sponsor deals.
The NFL mandates that the ads be no larger than 3-1/2 inches by 4-1/2 inches. They can't be worn on game jerseys, even in the pre-season, and can't advertise for tobacco, alcohol or firearm companies. The NFL is allowing deals with state lotteries, but Zupancic didn't tip his hand on that prospect.
The only time the ads would be visible to fans would be during open training camp sessions. But NFL officials think sponsors will pay for the small spots so they show up during media shots and post-practice interviews.
The jersey sponsorship opportunity is coming at an ideal time for the Colts, who lost Chevrolet as the southeast corner sponsor at Lucas Oil Stadium and a handful of other smaller sponsors following last season. The Colts sales staff will have to hustle, Zupancic said, to match last year's sponsorship sales revenue. In 2008, the first in Lucas Oil Stadium, sponsorship revenue was up about 30 percent from the previous year.
"I don't think we'll have a major downfall," Zupancic said. "But you can definitely tell there's an [economic] pinch."
Please enable JavaScript to view this content.