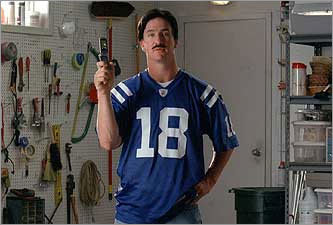 Central Indiana resident don't yet know the full details of the latest CIB bailout forwarded by Gov. Mitch Daniels and Indianapolis Mayor Greg Ballard. When asked what happened to the Colts' and Pacers' contributions that were part of previous bailouts, Daniels said he had something else in mind.
The plan forwarded by Daniels and Ballard does not include a $5 million contribution from each team as previous plans have.
This morning, the Indianapolis Convention & Visitors Association announced Colts quarterback Peyton Manning would be the new spokesman for the organization—for free. Remember, this year ICVA officials have sought an additional $3 million to $5 million from the CIB to further market the city to business and leisure travelers. That line item is now in jeopardy. So getting a multi-million dollar pitchman like Manning to speak up for the organization is no small donation.
Manning will be used on the ICVA's Web site, www.visitindy.com, and in targeted messages to convention and meeting planners and leisure travelers. Manning will also be used in email marketing and direct mail campaigns as well as print advertising. The campaign will be crafted by local ad agency Young & Laramore.
"No one better personifies our new brand position, 'Raising the game,' than Peyton Manning," said ICVA President Don Welsh. "We couldn't be more delighted or grateful to Peyton, owner Jim Irsay and the Indianapolis Colts' organization for their help and cooperation."
The mention of Irsay and the Colts organization in Welsh's statement leads to the conclusion that this deal was crafted at the highest levels of state and city government and within a Colts organization looking to avoid any kind of public relations black eye.
Manning, who has more sponsor deals than just about any North American athlete not named Tiger Woods, doesn't donate his time without giving it some serious thought. So this is quite a coup for the governor, mayor and ICVA. Manning, who brings in an estimated $16 million annually in sponsorship deals, has Gatorade, MasterCard, Sprint and DirectTV among others on his roster.
"Peyton Manning's involvement with the ICVA reflects our commitment to the city," Irsay said. "We understand Lucas Oil Stadium is more than just the home of the Colts, but part of a larger strategy to continue the growth and the success of Indianapolis as a premier hospitality and convention destination."
The next phones to ring will be that of Pacers co-owner Herb Simon and team president Jim Morris. Word is, ICVA officials have their sights set on crafting a similar deal with all-star forward Danny Granger. And given the $15 million the Pacers are seeking to operate Conseco Fieldhouse, you'd think this is a pitch they'll be receptive to.
Please enable JavaScript to view this content.