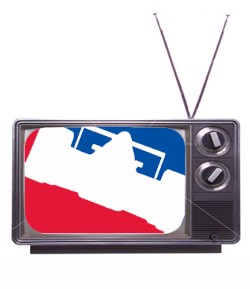 The Indy Racing League television ratings continue to smolder. They're certainly not burning it up, but where there's smoke, there's fire. And in this case, that means there's some hope for the open-wheel racing series to kindle a bit of interest in TV Land. There's also some fear within the IRL sales and marketing ranks that a few drops of rain on this season (figuratively, not literally) and the smoke—and any hope of a spark—could vanish.
After seeing its ratings for the Indianapolis 500 drop 17.6 percent to a 4.2 national Nielsen rating, IRL folks had to be at least a little relieved after they reviewed ratings for the last two races. Now we're not getting these confused with NBA Finals numbers (even without LeBron James), but they're decent given the IRL's track record and the switch this year to a new TV partner.
The Texas race Saturday night  on Versus earned a .36 household rating, with 467,000 households nationwide tuning in. That's higher than Long Beach (388,864 households), the IRL's previous top rated race aired on its new cable partner. And it's better than ratings for Indianapolis 500 pole day (385,000) and bump day (349,000), which also aired on Versus.
In the Indianapolis market, Texas earned a 1.6 rating, which means 17,152 TV households tuned in here.
On Sunday, May 31, the IRL's Milwaukee race, which aired on ABC, earned a .6 Nielsen rating, with 852,000 TV households watching. While the rating stacks up nicely to the IRL's other races, comparing network to cable programs is hardly fair. I can tell you, IRL officials were hoping for at least a 1.0 for the network-aired race. Locally, the Milwaukee race was a winner, with a 4.1 rating (43,952 TV households).
It's important to remember what local long-time media buyer Bill Perkins said after reviewing recent IRL ratings.
"All of television is down right now," Perkins said. The numbers show, Perkins added, that ratings across the board are down 10 percent. Still, motorsports marketing insiders said, potential title sponsors will be expecting better.
Please enable JavaScript to view this content.