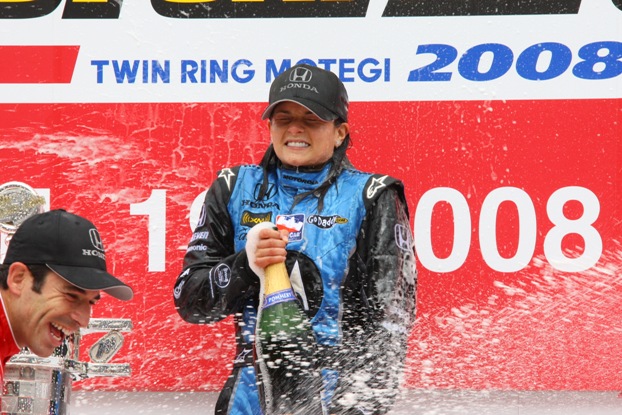 Where will Danica Patrick land in 2010? It's the biggest question this side of who shot J.R.? The reason this issue is intensifying is, her Andretti Green Racing contract—which expires at the end of this season—allows her this week to begin negotiating a new contract with any and all teams.
SpeedTV is reporting today that Chip Ganassi is going to make a multi-million dollar run at signing the driving diva for his Indy Racing League team next year, making Patrick the pilot of a third car, joining Scott Dixon and Dario Franchitti.
 And if she wants to try her hand at racing fendered cars, SpeedTV's Robin Miller surmises that Ganassi could slide Patrick behind the wheel of one of his NASCAR rigs.
Ganassi, sources said, is already talking with Patrick's IMG representative, Alan Zucker, who also represents NFLers Peyton and Eli Manning and golfer Tiger Woods.
But there are bound to be other—probably quite a few other—NASCAR teams aiming to sign Patrick, who finished third in this year's Indianapolis 500 and is standing fifth in the IRL's series standings. But this isn't about Patrick's standing or even her ability to steer one of the heavier NASCAR boats at high speed. This, as are most things in sports these day, is about selling tickets, attracting sponsors, increasing TV ratings and otherwise generating revenue. And let's face it, not even NASCAR's cover boys are garnering as much attention as Patrick these days.
NASCAR over the past two seasons has seen its TV ratings and race attendance decline, and series executives, track owners and team operators are eager to reverse that slide.
Charlotte-based Millsport, in a recent study, counts Patrick as one of only three race car drivers in any circuit with an awareness level above 50 percent among the general population.
Motorsports marketing experts said Patrick's cross-over to NASCAR could net the series $50 million in fresh sponsorship money. The 27-year-old driver would no doubt bring her current sponsors GoDaddy, Peak, Boost Mobile and Secret.
"I guarantee this is what will happen if Danica Patrick jumps to NASCAR," a sports marketing executive who does business with the racing series told AdvertisingAge. "One, every TV rating for every race will increase from the year before as new fans and old tune it to see if she wins, crashes or pitches a fit and gets into fights on pit road like she does now. Two, track attendance will go up. Three, even though NASCAR has a pretty loyal and wide-open fan base now among women, it will skyrocket if she's driving every week. And four, I guarantee it will bring in $50 million in new sponsors annually of marketers looking to activate around her, whether it's [sponsorship] on the car or off the track."
So hold on to your lug nuts. The green flag in the race to sign Danica has officially been waved.
Please enable JavaScript to view this content.