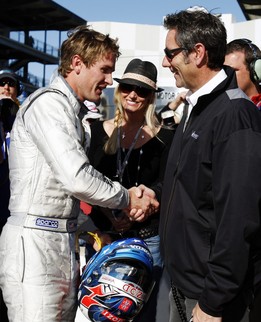 Ryan Hunter-Reay is jumping from the frying pan into the fire. An Indy Racing League press release today said in a "win-win situation for all involved," Hunter-Reay is departing Tony George's Vision Racing team to pilot A.J. Foyt's car. The deal was finalized last night with a blessing from George, his cash-strapped team with one fewer car to finance.
The deal, however, looks like a lose-lose for Hunter-Reay. I'm sure Izod officials are pleased since Hunter-Reay, the clothing and apparel company's spokesman, will at least be on the track. But for the man known to fans as RHR, it must seem a long way from where he was last year, piloting a Rahal Letterman car that was competitive enough to find its way to victory lane once.
Hunter-Reay all but said during May that George had him driving a bucket of bolts around the famed Brickyard. Hunter-Reay intimated that George's other driver (and stepson) Ed Carpenter had much better equipment. He was clearly unhappy.
More than a few motosports insiders were surprised some of Hunter-Reay's comments didn't get him sacked. Well, they might have, had George not had Izod's multi-million dollar league-sponsorship and promotional deal hanging over his head.
In all fairness, Hunter-Reay did take second at this year's season opener at St. Petersburg. But on ovals, where it's at least as much about the equipment quality as it is about driving skills, Hunter-Reay has stunk.
So now, the Izod cover boy will be driving for A.J. Foyt, who hasn't fielded a competitive car in, well, a very long time. I'm not even sure Foyt has a full-time engineer on staff. Foyt was last seen pounding out a wing with a dead-blow hammer on IMS' pit lane. Oh, pardon me, that was 1989. But at least Hunter-Reay can explain to the television audience what went wrong while wearing his Izod hat.
Bobby Rahal, meanwhile, said if he can put a sponsorship package together he'll be back in the IRL next season. He's indicated that he'd consider Hunter-Reay to pilot his entry. If that's the case, certainly Hunter-Reay would gladly tell Foyt "See you later alligator."
Please enable JavaScript to view this content.