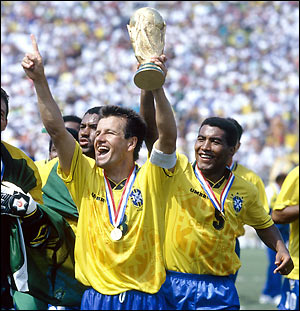 Lucas Oil Stadium has made the short list for the 2018 and 2022 FIFA World Cup soccer tournament. Well, the one-year-old retractable-roof stadium actually made a shortened list.
The list this week of possible sites to be included in the U.S. bid was trimmed from the original 58 candidates released in April to 45 sites in 37 cities. The USA Bid Committee Monday issued requests for proposals to officials representing the 45 remaining sites. The Indiana Sports Corp. is heading up the local effort. There's bound to be stiff competition from other countries for this vaunted event.
The RFPs request information from city officials covering an array of subjects such as tourism, climate, security, transportation, promotion and more. The RFPs are an important step in the United States' application that is due to FIFA next May. FIFA's 24-member Executive Committee will study the bids, conduct site visits and name the two host nations for the 2018 and 2022 tournaments in December 2010, completing a 21-month bid and review process.
"We want each city under consideration to have the best opportunity to present their case and, to that end, we are recommending that officials representing these cities, metro markets and stadiums form host city committees in the near future to help move our national bid forward at the local level," said David Downs, the Executive Director of the USA Bid Committee. 
The 1994 World Cup hosted by the U.S. brought in a record 3.6 million fans from around the globe. The average per-game crowd was 69,000. The economic impact for the entire tournament is in the hundreds of millions. But there aren't many studies on what each round would net the host city.
FIFA's current criteria requires a candidate host nation to provide a minimum of 12 stadiums and a maximum of 18 capable of seating 40,000 or more spectators. Stadiums with a minimum capacity of 80,000 are required by FIFA for consideration to play host to the Opening Match and Final Match. The U.S. used stadiums in nine cities when it last played host to the FIFA World Cup in 1994. 
Indianapolis—if it is fortunate enough to be chosen—would most likely host a preliminary pool play round, said Indiana Sports Corp. spokesman John Dedman. Preliminary pool play involves four teams playing over a week-long period. "Since it's played over a longer period, visitor spending at hotels and restaurants can be significant," Dedman said.
Most sports economists agree that even a preliminary round of the World Cup could carry an economic impact near an NCAA men's Final Four. Studies show that direct visitor spending for a men's Final Four is between $45 million and $50 million.
Please enable JavaScript to view this content.