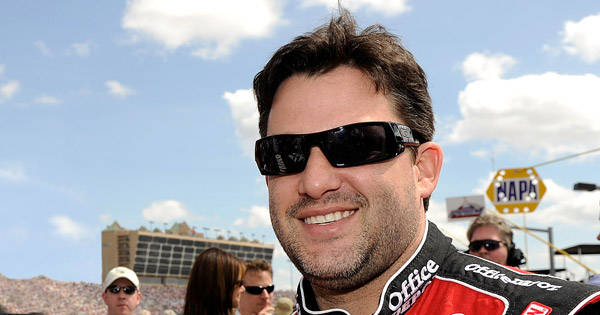 Were Goodyear officials and Jeff Gordon just blowing smoke after the most recent tire test at the Indianapolis Motor Speedway?
Some NASCAR followers think so. More than a few fendered car fans want to know why the driver affectionately known as Smoke, Tony Stewart, wasn't at the mic yesterday instead of IMS booster Gordon.
Gordon, who was raised in Indiana, gave Goodyear's new tires a glowing review. In the process, he couldn't have pumped the Brickyard 400 more if he had been waving a pair of pom-poms. He loves the IMS, and why shouldn't he. He's kissed the bricks as Brickyard champ four times.
Stewart, on the other hand, is far less political—or should I say politically correct—than Gordon. Stewart was at the June 1-2 NASCAR tire test at the Brickyard—the one closed to the media. Stewart asked to be part of that test, according to Goodyear officials. But when reporters were let in at the conclusion of yesterday's tire test, Smoke had long cleared the building. That's because he was not at this week's test. Instead, his teammate, Ryan Newman, was on hand. Stewart's endorsement could have gone a long way to clearing the air on this issue once and for all—and could have served as a catalyst for ticket sales especially among the most skeptical among us.
"I want to hear from the man who said Hoosier and Firestone tires blow Goodyear away," one IBJ reader told me yesterday. "Until I hear from him, I won't believe they have all the problems solved. I guess I'll have to wait for race day now, and if they don't have the problems solved this year, I'm gone for good."
Last year, a yellow flag had to be dropped every 10 to 12 laps to keep the shredding Goodyear tires from blowing. This year, the tires should last at least 30 laps, Gordon said. He even guaranteed a good race. To be fair, Gordon wasn't alone in testifying on behalf of Goodyear. Kurt Busch and Kasey Kahne also gave the new rubber compound a thumbs up.
The Speedway can't afford to turn off any more NASCAR fans. NASCAR attendance is down across the board this year by about 10 percent. The Brickyard 400 has traditionally attracted between 230,000 and 250,000 annually. Even Speedway officials doubt 200,000 will attend this year. If attendance drops 50,000, that means about $4 million in revenue goes up in smoke. Motorsports business experts estimate the financial decline at this year's Brickyard 400—including hospitality could be double that. Estimates put annual revenue for the Brickyard 400 in the $35 million to $40 million range.
All this has come at a time when IMS boss Tony George is pinching his pennies under the watchful eye of the facilities' board of directors.
As for the man NASCAR fans call Smoke, he'll be here on race. That's one guarantee you can count on. And you can bet someone will ask him about Goodyear tires. Of course by that time, it likely will be a moot point—one way or another.
Please enable JavaScript to view this content.