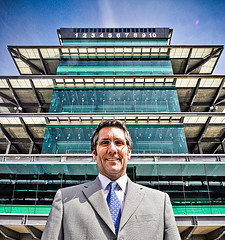 You can bet the folks at the Indianapolis Motor Speedway are watching closely at the family fight taking place within Formula One.
They might even be wondering if F1 teams and officials recall what happened to American open-wheel racing following the Indy Racing League-Champ Car split. F1 seems to be going down the same path paved by IRL and Champ Car in 1996.
Formula One's future was in turmoil today after Ferrari, McLaren and six other teams announced plans for a rival series following the collapse of hostile negotiations with the sport's organizers over a budget cap for next season.
The FIA, F1's governing body, accused the Formula One Teams Association of trying to dictate the rules of motorsport and intentionally triggering the biggest crisis to engulf F1 since the championship began in 1950.
Does this sound familiar to anyone?
"I think it's back to the future," Bernie Ecclestone said Friday after arriving at Silverstone, site of Sunday's British Grand Prix.
Did he really say that? Wow, that's pretty ironic.
Negotiations between FOTA and the FIA stalled over plans for a voluntary $60 million budget cap for next season. The FOTA teams lodged entries for 2010 on the condition there would be changes to the budget cap provisions, but the FIA wouldn't budge, saying the sport can't survive in difficult economic times without spending caps.
Ferrari has participated since that inaugural series, but is now set to break away along with current championship leader Brawn GP, McLaren, Renault, Toyota, BMW Sauber, Red Bull Racing and Toro Rosso.
Ecclestone, who owns F1's commercial rights, said he is unsure whether FIA president Max Mosley can resolve his dispute with the rebel teams.
It's difficult to say where the Indianapolis Motor Speedway would land in all of this. It's no secret IMS boss Tony George still has thoughts of bringing F1 back to the Brickyard—if the financial formula is workable.
So, would George make a play for the new series to come to Indy? That's anyone's guess. But having two F1-type series to play against each other in a competitive bidding situation might make for a better deal for the Speedway. If FOTA has Ferrari and the other big-name teams, that would appear to be the series to go with.
There's also the scenario that George decides to fold the unprofitable IRL at some point, and this new series might actually include the Indianapolis 500 on its schedule. I'm sure that scenario would worry even the iron-fisted Ecclestone. After all, the Indianapolis 500 is still a crown jewel in the world of open-wheel.
But by tying its fortunes to another newly split open-wheel series, would George's empire be in any better shape than he is now?
Back to the future, indeed. You said it, Bernie, not me.
Please enable JavaScript to view this content.