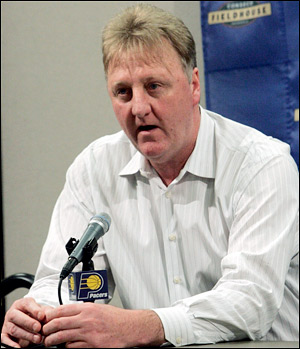 Larry Bird, Indiana Pacers president of basketball operations, said the team has its eye on four players that can help the franchise right away if they're available in the June 25 NBA draft.
"Three out of the four will be there, I guarantee that," Bird told reporters at Conseco Fieldhouse this afternoon. "Whether we go point guard, big or wing, I think we're going to get someone who can step right in and help us."
If Bird had the pick of the litter, he said he'd take Connecticut center Hasheem Thabeet. But the big-man very unlikely to be available at No. 13. And Bird doubted the Pacers could afford to go after Thabeet, who is projected to go as high as No. 2.
More realistic selections, Bird said, would be Ohio State center B.J. Mullens, Pittsburgh power forward DeJuan Blair, North Carolina Ty Lawson and North Carolina power forward Tyler Hansbrough, who is projected to go between No. 18 and No. 20.
"They've picked on Tyler for four years, and all he's done is won," Bird said. "He plays hard every game, and I like those kinds of players."
Bird added that people compare Hansbrough to current Pacers forward Jeff Foster, but he said Hansbrough shoots much better from the field and free throw line than Foster. Bird added that he likes players with experience.
"I don't like one-year [college] players," he said. "If I can have a three- or four-year player, I will."
Bird said he's also got a close eye on former Indiana University star Robert Vaden.
"He can shoot with any of them, and has lost a lot of weight," Bird said. "We will look at [Vaden] with our second round pick."
Bird will consult with Pacers' scouts and coaches, but said final draft day decisions will rest with him and David Morway, the team's general manager.
After the draft is over, Bird expects there to be more roster changes, adding that he'd like to be active in free agency if possible. Once Pacers officials determine who they draft, then they'll decide what to do with their own free agents, including point guard Jarrett Jack.
"We won't have seven new faces like we did last year," Bird said. "I can't see us having any more than five new faces. But we could have five. We're talking right now to some teams about some things."
Please enable JavaScript to view this content.