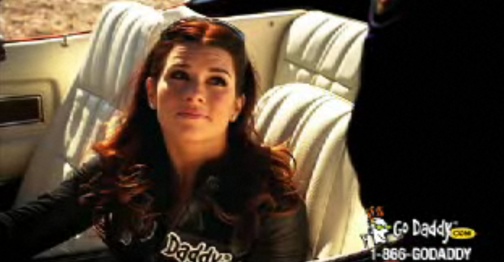 More than 10 million people tuned in to NBC to watch the U.S. Open at Bethpage Black Golf Course last weekend. And none of them saw images of Danica Patrick.
Lexus, one of the primary sponsors of the telecast demanded that NBC yank GoDaddy commercials featuring the Indy Racing League driver. But not because of the commercials racy content or anything controversial about the pin-up Patrick.
Believe it or not, Lexus had its tailpipes in a tizzy because Patrick was driving a vintage Ford Mustang in the commercial. As the exclusive sponsor of the NBC broadcast, Lexus declared no other automakers can be shown in commercials airing during the U.S. Open.
It's difficult to imagine the Japanese automaker Toyota's luxury brand would feel much threat from the American-made muscle car, let alone a vintage Mustang. Who knows, maybe Toyota plans to get in the muscle market.
GoDaddy CEO Bob Parsons was especially honked off because Toyota let Honda's Acura air an ad during the same U.S. Open broadcast. That move seems odd, given the Acura ad is about selling cars and the GoDaddy spot is about selling Web domain names.
To follow The Score on Twitter: http://twitter.com/ibjthescore.
Please enable JavaScript to view this content.