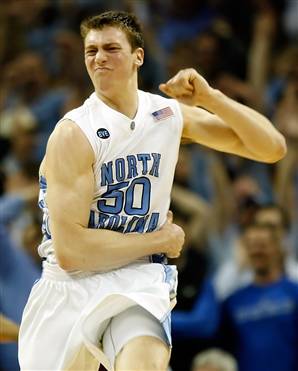 If the Indiana Pacers tonight draft North Carolina center Tyler Hansbrough with the No. 13 selection, you'll know the people on the business side won out over the people who run basketball operations.
Ideally, the Pacers will choose the very best player available, thus improving the team and attracting more fans to home games and bolstering the team's sagging bottom line.
That'd be ideal, and Larry Bird, the team's chief of basketball operations, said that's the way he'll draft. But the fact is, Bird doesn't have an ownership stake in the team. And those that sell tickets and sponsorships, know a kid like Hansbrough with an NCAA title in hand and who looks a lot like he just ambled off the set of Hoosiers, will offer the quickest sales and marketing pop. He's one of the few players in the draft with brand identity and he'll play well with the team's constituency during pre- and early-season sales efforts.
But is Hansbrough fool's gold? Will he really help the Pacers improve? More than a few hoops prognosticators are skeptical of the big man's ability to make much of a difference. There's a prevailing thought that the Pacers' fawning over him has been responsible for bringing Hansbrough into the lottery discussion. Before this month, most considered Hansbrough a late first-round pick at best.
"They've picked on Tyler for four years, and all he's done is won," Bird said at a press conference Monday.
He's won in college, the baseball equivalent of AA. The Pacers play in the big-leagues. By most accounts Hansbrough is slow afoot with a nice touch, but limited shooting range. Let's just say this—he's no Dirk Nowitzki.
But the Pacers are in a tough spot. Last year the franchise drew 14,182 fans per game. That's good for 28th in the 30-team league. But that's a 17.5 percent increase over the previous season. Pacers President Jim Morris said the Pacers were bringing in about $400,000 less in ticket revenue per game than the $900,000 league average. Translation: The Pacers gave away a lot of tickets to get people to sample the product.
Now, it's time for the Pacers to cash in on that investment, and get the samplers to come back as dues paying members of the Blue and Gold Club.
Let's hope Bird does what he says he's going to do: Pick the best basketball player available. But that will require Bird to make one of his most fancy off-court moves. Close his ears, turn his back, shut the door on Pacers officials on the sales and business side and do the right thing for the franchise in the long-run.
To follow The Score on Twitter: http://twitter.com/ibjthescore.
Please enable JavaScript to view this content.