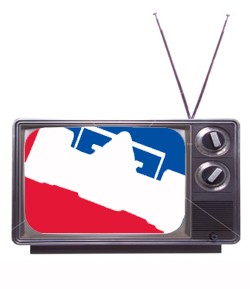 The Nielsen TV ratings for last Sunday's Indy Racing League race in Iowa are in, and since there's never a shortage of opinions from followers of The Score when it comes to these numbers, I won't offer mine. I will simply state them as Nielsen provided them to me.
The rating for the Iowa Corn Indy 250, which aired starting at 1 p.m. on ABC was 0.8 nationally. According to Nielsen, that's 870,000 TV households (and by Nielsen's calculations, 1.13 million total viewers). The race's rating in the central Indiana market was 3.6, which is 38,592 TV households.
By comparison, the May 31 IRL race (also on ABC) in Milwaukee earned a .6 rating. But the local rating for the Iowa race fell in comparison to Milwaukee, which scored a 4.1 rating in the central Indiana market. Both races came up short of that magic 1.0 mark that IRL officials were hoping to see nationally. And in the long-run, IRL officials would like to see the ratings get a lot stronger than that.
The next three weeks will be big for the IRL in terms of trying to build a TV audience. The series races at Richmond Saturday, with the broadcast starting at 8 p.m. on Versus cable channel.
The next two races are on ABC, and usually draw a solid audience. Sunday, July 5, the green flag will drop at 1 p.m. at Watkins Glen, and the series will have another 1 p.m. start time Sunday, July 12 in Toronto. The series' final seven races will be broadcast on Versus.
To follow The Score on Twitter: http://twitter.com/ibjthescore.
Please enable JavaScript to view this content.