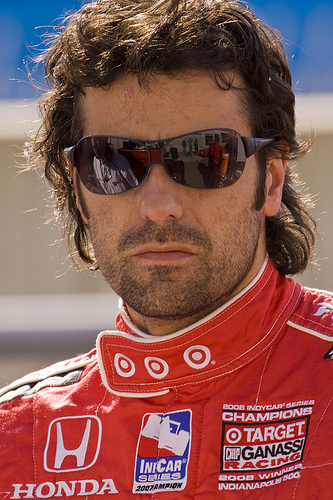 Indy Racing League officials were probably not too pleased to hear Target Chip Ganassi Racing driver Dario Franchitti telling a national television audience how "dreadful" and "awful" Saturday night's race at Richmond was.
But he has been heard. League officials are considering changes that could make oval racing more compelling and competitive this season.
"I really apologize to the fans because that was a dreadful race … We have to do something," Franchitti told Versus commentators immediately after the race, in which he placed second.
IRL officials acknowledged the lack of passing in the race. Graham Rahal said he passed only two cars while finishing third. IRL officials said they have no plans to muzzle drivers.
"The drivers are free to speak their minds," said IRL spokesman John Griffin. "The only time we'll try to stop the drivers from talking is if they're outright wrong."
This is not one of those times. Saturday's race was a bit of procession, with the pit stops providing the most excitement. Debris from tires on cars in a previous race caused the IRL cars some problems. IRL officials said the race also showed the league's parity. Some of that is due to a chassis and engine formula that is several years old, which means everyone has equal equipment.
"We've spoiled some people I think, because we've had some of the most dramatic racing the last three or four years," Griffin said.
IRL officials will meet tomorrow with officials from Richmond International Raceway to discuss plans for next year. Griffin said this is a pre-arranged meeting, and he expects the series to return to Richmond next year.
Brian Barnhart, IRL president of competition and racing operations, has already met with several team officials over the weekend and this morning to discuss on-track issues, Griffin said, adding that Barnhart is considering "a couple things" to improve the racing—especially on ovals.
Griffin said IRL fans could see some changes as early as Kentucky—the series' next oval race—Aug. 1.
To follow The Score on Twitter: http://twitter.com/ibjthescore.
Please enable JavaScript to view this content.