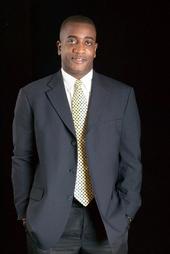 For those that missed it in the IBJ print edition two weeks ago, the Circle City Classic has named a new director. The official announcement comes today. For more details on the new hire, the IBJ print story follows.
The Circle City Classic has hired Marc Williams, an East Coast marketing consultant, as its executive director, a post vacated in March when Tony Mason left to become senior vice president for the 2012 Super Bowl Host Committee. Williams began as director June 15. 
The Classic—which started in 1984—is an annual weekend of activities in early October built around a football game featuring two historically black colleges or universities. The game and related events, most of which happen downtown, typically attract more than 70,000 spectators and ring up direct visitor spending of $14.9 million, according to the Indianapolis Convention & Visitors Association.
Williams, 39, is a New Jersey native with a varied background in sports, entertainment and music.
Max Siegel, an attorney in Baker & Daniels' sports and entertainment practice who previously worked in the music industry and as a NASCAR team president, said Williams is a good fit for the job.
"Marc has a track record of meaningful corporate relations that will help him secure sponsorship and support for the event," Siegel said. "He has the kind of business savvy where he will respect the tradition of the Circle City Classic and the Indiana Black Expo, but push the envelope in terms of big, audacious thinking."
Sources close to the Classic told IBJ that Williams plans to use his contacts to expand the weekend and broaden the appeal far beyond its traditional black audience.
In 2006, Williams founded his own company, Williams Communications LLC, a company that specializes in talent management, marketing strategies, brand awareness and event management.
Williams Communications, which will continue to operate out of offices in Virginia and Florida, has worked with global brands, including Nike's Jordan brand, Converse, And 1, Cingular Wireless, Spalding and ESPN Mobile.
Williams, who has an undergraduate degree from William Patterson University and a graduate degree from the University of Massachusetts, also has worked stints at George Mason University Center for Sport Management, Florida-based ACI Media, Florida-based Champs Sports, and New York-based Footaction.
Williams counts basketball guru Dick Vitale, also a William Patterson graduate, as one of his top mentors. He told the Washington Business Journal that he has consulted Vitale, with whom he struck up a friendship while in college, on almost every career decision he's made.
After an internship at Reebok, he was hired as a manager for marketing partnerships for Footaction, a retail sporting goods chain. He was key in forging the first video game deal ever for a sports retailer, landing Footaction stores in the popular Street Hoops video game. Williams also landed Footaction product placement in the Chris Rock movie "Head of State."
Williams brokered a deal between Footaction and the Ruff Ryders record label, which landed him on the cover of Billboard magazine. Williams later brokered distribution and clothing deals for Footaction with artists such as Eve and Nelly.
To follow The Score on Twitter: http://twitter.com/ibjthescore.
Please enable JavaScript to view this content.