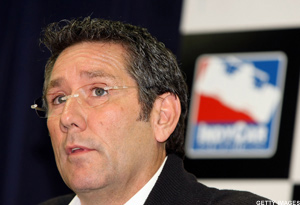 Itâ??s official. As reported by SpeedTV and IBJ more than a month ago, Tony George has stepped down from his leadership
role
at the Indianapolis Motor Speedway.
The biggest question remaining is what will happen to the Indy Racing League. The IRL has long been supported by revenue (likely
tens of millions of dollars annually) from the IMS. With Tony George no longer in charge of the purse strings at the Speedway,
you have to wonder where the money is going to come from to keep the series rolling.
Itâ??s true the IRL has made solid progress by signing several key new sponsors this year, but race attendance appears static
and TV ratings are still lower than league officials would like in the first year of a new deal with cable channel Versus.
Car count and overall team health is also a continuing concern.
By Georgeâ??s own admission, the IRL has been unprofitable since its founding in 1996. As reported by IBJ in May, George told
a gathering in New York in December that if the IRL was not profitable by 2013, thereâ??d be no 2013. George later told the
Indianapolis Star the IBJ article (authored by me) took that comment out of context. Iâ??m not sure how you can take such
a
comment out of context. But since George declined to talk to me for the story despite repeated requests, we may never know.
What we do know is that change is in the air. And Iâ??m sure in the coming days, weeks and months, weâ??ll get some answers
to
those big questions.
For more information on this topic click here
and for the very latest news click� here.
To follow The Score on Twitter: http://twitter.com/ibjthescore.
Please enable JavaScript to view this content.