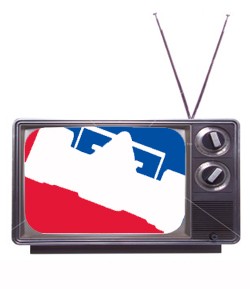 Saturday's Indy Racing League race—the SunTrust Indy Challenge—posted the second worst national TV rating
for an IRL race this year. Only the April 26 race at Kansas scored a lower rating.
The national rating for the Richmond race—which began
at 8 p.m. on Versus cable channel—was .22, according to Nielsen Media Research, meaning 248,000 U.S.
households tuned in.
Even more surprising
was the Indianapolis market rating, usually one of the IRL's strongest. In central Indiana, the Richmond
race posted a .67 rating, equating to 7,000 households.
The IRL races at Watkins Glen this Sunday, with the green flag dropping at 1 p.m. The race is played
out at one of the more popular road courses and airs on ABC, which means TV ratings should be substantially
higher than Richmond.
The road races
coming up on the IRL circuit could bring a new cast of characters to the IRL leader board adding intrigue to
the series. Drivers like Ryan Hunter-Reay and Graham Rahal are especially strong on road courses and could challenge the Target-Penske
stronghold on the series. Hunter-Reay won at Watkins Glen last year, but it might be difficult for him to repeat, given that
he is driving for A.J. Foyt, who hasn't put a car in the winner's circle in some time.
Please enable JavaScript to view this content.