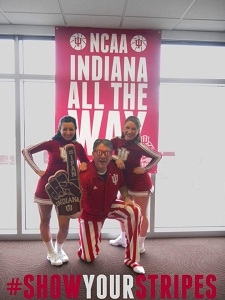 Is Indiana University taking a page out of the Butler Bulldogs' playbook?
It certainly looks that way.
IU is using the NCAA basketball tournament this year to engage its alumni base and promote the school and its academic programs in a very strategic way.
If you're an IU alum or supporter, your e-mail inbox likely has been filled all week with messages about the Cream and Crimson. But the campaign goes far beyond Indiana borders.
While Butler may not be the first or only school to use its prowess in basketball to shine a light on its academic excellence, the university certainly has become the master at it. Butler also has led the way in showing the importance of Midwestern schools' promoting themselves to East Coast audiences.
During the Big Ten Tournament last week, IU launched a marketing campaign using social media, e-mail blasts, and print and television advertising. This week, in advance of its NCAA opener, the university ratcheted up the campaign with targeted marketing in Chicago, New York and Washington, D.C.
Ads are running in the Chicago Tribune, New York Times, Washington Post and Foreign Affairs magazine, among others. TV ads have run on the Big Ten Network and ESPN. Ads also have run in Fort Wayne, Indianapolis and other key state markets.
"This year, we've been much more deliberate than we have been in the past about using [the basketball postseason] to elevate our brand, remind people why they love IU, and tell them that we appreciate their support," IU spokesman Mark Land said. "We definitely want to take advantage of the increased visibility of the school due to the [NCAA] tournament."
The out-of-town portion of the campaign is aimed at IU alums as well as prospective students beyond our borders. The ad messages have a decidedly academic undertone, highlighting IU's schools of informatics, public health, and global and international studies.
Of course, the ad campaign is also about raising money for the athletic department and overall university.
"We have a lot of alums in these [Washington, D.C., and New York] areas, including a lot of influential ones," Land said. "They like to see their school on the big stage. We wanted to use this opportunity to capitalize on the energy."
IU plans to spend a mid-five-figure amount on the campaign. And though IU officials are reticent to discuss marketing plans beyond this weekend, it's safe to say they're in place. This is a plan that was coordinated by leaders of the school's athletic department, academic arm and the IU Foundation, school officials said.
"We don't want to get ahead of ourselves," Land said. "The guys in the athletic department would kill me if I started talking about IU making the Final Four."
But if IU does dust James Madison on Friday, as expected, and defeats the winner of the North Carolina State-Temple game on Sunday, school officials will amp up the campaign another notch—especially in the nation's capital, where IU would play its regional games.
And if IU makes it to the Final Four, as some are predicting, Land said the campaign would broaden to other markets, including Atlanta, where the Final Four will be played.
"We've certainly given some thought to the next three weeks," Land said.  
The current campaign features IU Athletics Director Fred Glass, IU Foundation President Daniel Smith and the school's two newest instructors—retired politicians and foreign affairs experts Lee Hamilton and Richard Lugar. One of the e-mails sent out this week features a personal note to school supporters from IU Coach Tom Crean.
Ads featuring Glass and Smith show them dressed in candy-striped pants—and socks—with the tag line "Show your stripes." The ads featuring Hamilton and Lugar tout IU's new School of Global and International Studies.
"Last year caught us by surprise," Land said. "And before that, we haven't had much to celebrate in a while. So we didn't want to let this opportunity to raise IU's image and brand pass us by."
Please enable JavaScript to view this content.