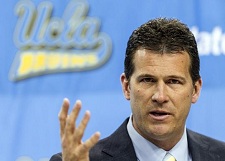 When I heard that Steve Alford had taken the job to replace Ben Howland at UCLA, I couldn't help but wonder why.
Of course, there's the allure of more money and a bigger stage. And I'm sure the competitor in Alford looks forward to the challenge of facing tougher opponents.
But I couldn't help but wonder if there was another end game. I couldn't help but wonder if part of the reason Alford left his comfortable job at New Mexico for the troubled waters of UCLA didn't have more to do with his desire to get back to his roots in Bloomington than his ambition to become the next Wizard of Westwood.
You see, for hard-core competitors like Alford, it's hard to let dreams die. And his dream has never been to be a Bruin; it's always been to return to the land of the candy-striped pants.
Not as a player this time. Alford already scaled that mountain when he led the Hoosiers to the 1987 national championship as a starting guard. Ever since his playing days ended, he's burned with the desire to be the first coach since the great Bob Knight to lead IU to the promised land. Desires like that aren't easily quenched.
It's true that IU has a coach, and a good one in Tom Crean. It's also true that Crean, at 46, likely isn't going anywhere for a while. But at 48, Alford, too, figures to be blowing air through a whistle for many more years. And if that IU job does somehow come open again, Alford wants to have the resume to prove he's worthy of it.
Bad timing and a poor decision worked against Alford the last three times the job was open. When Mike Davis was hired, Alford was busy dealing with his relatively new job at Iowa, a job that never was a good fit. When Davis was fired and Kelvin Sampson was hired, Alford was busy trying to salvage his reputation at Iowa.
Two years later, when Crean was hired, Alford's reputation was wrecked after he was run out of Iowa and he was busy trying to salvage his once-bright career at New Mexico. Even with six very solid years now under his belt leading the Lobos, I'm not sure Alford would be a serious candidate for the IU job even if it came open.
Again, Crean is very secure in Bloomington, so it seems strange to be speculating about this, but guys like Alford think like great chess players–two or three moves ahead. And Alford needed to take one more step on his reputation-reclamation tour to become a serious contender for the IU job should it open again. No amount of winning in the Mountain West was going to get it done.
I suppose he could have stayed there and hoped for a miracle—that the desert winds would have blown in enough talent to win an NCAA title. I don't care what Alford says about New Mexico's hoops talent, that's a long shot that only the most desperate gambler would take.
But if Alford can fly high over the City of Angels, he could be a candidate for any college-coaching job in the nation. And if Crean somehow goes south in Bloomington or for whatever reason decides to leave, Brad Stevens won't be the only name on IU Athletic Director Fred Glass' short list.
Alford, for the first time in a long time, would certainly have to be part of that conversation. For Alford, the decision to go to UCLA and the faint hope of returning to Bloomington isn't about next year or even the year after that. If he does reasonably well, Alford will be at UCLA a minimum of four years when his son, Bryce, graduates a Bruin.
For Alford, this might be about an aging dream and a faraway hope. The idea of Alford's someday becoming IU's head coach might seem unrealistic, ridiculous and even insane. But I refuse to believe that hasn't been and doesn't continue to be Alford's dream. And like any competitor, he's trained to put himself in the best position to make that come true.
He's a few short seasons in L.A. from making at least that much of the dream a reality.
(Photo: Associated Press)
Please enable JavaScript to view this content.