If college sports truly is the marketing tool, the so-called front porch to the larger university that sports marketers say it is, Indiana University has quite an opportunity within its grasp. Not to mention some serious scholarship cash.
The school's first ever inclusion in the College World Series, to be played in Omaha, Neb., starting Saturday, is quite a coup unto itself. But that's not all that's at stake for IU as the spring sports season winds down. If the Hoosiers can make some waves at the CWS, they could find themselves the recipient of an award that would have been unthinkable when Fred Glass took over as athletics director in January 2009.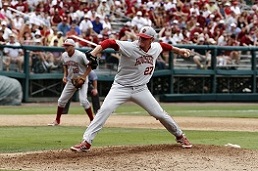 Indiana pitcher Brian Korte during the game in the Tallahassee Super Regional Championship against Florida State on June 8, 2013 in Tallahassee, Florida. (AP Photo/Don Juan Moore)
IU currently stands fifth in the Capital One Cup, the annual award given to the best NCAA Division I school across all sports. Since Indiana is the highest ranked school in the Cup playing in the CWS, IU could make a run toward the top rung of the ladder.
Current Cup standings are:
1. Texas A&M 88
2. Florida 86
3. Duke 82
4. Alabama 80
5. Indiana 76
6. Michigan 76
7. Louisville 66
8. Syracuse 66
9. Oregon 65
10. Notre Dame 62
IU is sitting in the company of some pretty powerful college sports programs. And on top of quite a few more. That sort of recognition should keep a steady stream of top recruits—in all sports—headed to Bloomington. It won't hurt alumni donations, either.
The Cup standings make Saturday's CWS game against the University of Louisville that much more intriguing. While the status of winning the Cup is nice and the publicity of receiving the award at the annual ESPYs on ESPN in July certainly carries marketing value, there's real monetary value for the school as well.
Capital One, the credit card company that sponsors the award, will give a combined $400,000 in student-athlete scholarships to the winning schools Capital One crowns a men's and women's champion.
With all the attention paid to IU's resurgence in men's basketball, it's almost easy to miss many of the other improvements Glass has overseen during his relatively short tenure, namely the men's soccer and baseball programs. And while Glass didn't hire men's basketball coach Tom Crean, he certainly gave him some key votes of confidence via pay raises and contract extensions that helped the coach lock down a bevy of top recruits.
With Glass in his corner, few could think Crean was leaving Bloomington anytime soon. Despite the success, Glass still has some programs to shore up. The verdict is still out on football coach Kevin Wilson, and women's basketball remains a serious shortcoming.
If Glass can do for those two programs—football in particular, with its massive potential for revenue-generation—what he's done for others, he may be the next one in line for a contract extension.
Please enable JavaScript to view this content.