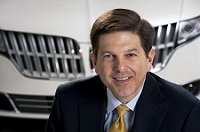 Hulman & Co. CEO Mark Miles has taken nearly a year to do it, but he finally has re-organized his front office staff at the IndyCar Series and Indianapolis Motor Speedway.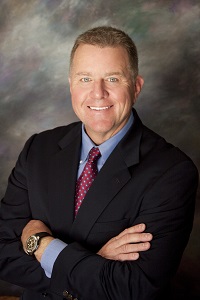 On Thursday, Miles announced the hire of Connell J. "C.J." O'Donnell as Hulman Motorsports' chief marketing officer (above), and Jay Frye (at right) as the new chief revenue officer. Both will work on projects involving the IndyCar Series and Indianapolis Motor Speedway.
One of Miles' chief objectives since his own hiring in December is combining the staffs of the IndyCar Series and IMS. He seems to have that accomplished. Now we'll see if that move results in increased sales.
Earlier this year, Miles hired Derrick Walker to oversee the competition side of the series. That move came after Miles failed to land a suitable candidate to head up the commercial and competition side. Just Marketing International CEO Zak Brown was the prime candidate to take on the dual role.
Later, Miles abandoned looking for a chief executive to oversee the commercial side of the IndyCar Series and Indianapolis Motor Speedway. And instead decided to re-tool his plan as his reorganization progressed.
His plan to combine the two staffs hasn't met a ton of resistance so far. Some team owners and track promoters fear the sales staff will focus on the money-making Speedway operations while neglecting the money-losing IndyCar aspects of the business.
Miles insists that won't be the case. The structural change comes at a critical time for the series and Speedway, which are looking for a slew of new sponsors, most notably a series title sponsor to replace Izod.
Miles also wants new sponsorship skin in the game to promote the month of May at Indy, which in 2014 for the first time will include a road race in addition to the traditional Indianapolis 500 oval race. Miles said he'd consider presenting sponsors for both races and perhaps even a title sponsor for the new road race, which is now called the Grand Prix of Indianapolis.
"We've set a new strategic direction for our motorsports entities, and Jay and C.J. are both top performers who will help us take big leaps forward," Miles told reporters at the IMS on Thursday. "Among their immediate goals are to add sponsors for IndyCar and IMS, improve our level of fan engagement and develop strategies to build alignment among our teams, drivers, venues and sponsors. Our team is in place, and there's no off season as we prepare for 2014."
The honeymoon for Miles is over. He has been given a year to mold his team and activate his plan. Now it's time to lift the fortunes of Indianapolis Motor Speedway and once and for all put the 18-year-old IndyCar Series into the black.
It's not as if Miles hasn't done anything in his first year at Hulman & Co. He's secured $100 million in tax revenue over the next 20 years to make upgrades at the IMS, he's begun to re-mold the IndyCar schedule and he's doing his best to revive the once vibrant month of May and the NASCAR Brickyard 400 race. He's made the bold step of putting an IndyCar race on the road course Speedway officials originally built for Formula One and is contemplating a non-points overseas mini-series during the winter months.
Perhaps most amazingly, Miles has done all these things without managing (outwardly, anyway) to upset any of the temperamental track promoters and team owners—the same team owners who ran IndyCar CEO Randy Bernard out of town after three years.
Miles seems to have two able lieutenants in O'Donnell and Frye.
O'Donnell recently served as Ford Motor Co.'s group marketing manager for electric vehicles in Detroit, where he was recognized for the launch of several hybrid vehicles and orchestrated a record year for hybrid and electric vehicle sales. During his 20-year career with Ford, he also has led marketing for the Lincoln and Jaguar brands domestically and abroad, and was a member of a small team that led the turnaround of the Mazda brand.
"There's a lot of strength in the combined horsepower of the Indianapolis Motor Speedway and IndyCar," O'Donnell said Thursday. "Initially, I'll focus my energy on a common brand and clear message for our fans. This will include working together with our key stakeholders and ensuring marketing alignment among teams, drivers, sponsors and venues."
O'Donnell will lead a combined team of IndyCar and IMS marketing and communications staffers.
Frye led the transformation of the Red Bull Racing Team in NASCAR Sprint Cup into a contender that earned a berth in the 2009 Chase for the Championship during his tenure as vice president and general manager from 2008-11.
In addition, he spent 12 years at MB2 Motorsports LLC, a NASCAR Sprint Cup team he helped build from the ground up into a multi-car operation. As the CEO and general manager, he negotiated an industry first—a sponsorship/ownership package with The Valvoline Co.
Frye has other sales and marketing experience, including several years with Anheuser-Busch.
Frye will lead a combined team of IndyCar and IMS sponsorship sales, licensing and account services staff. IMS suite and hospitality sales will remain an IMS function under Doug Boles' direction. Boles is IMS president.
Now that Miles has hired some solid staffers, he has to find a way to keep them. The IndyCar and Speedway sales staff has seen more than its share of turnover in recent years. That sort of instability is bound to hurt sales efforts.
Most recently, Mike Redlick, IMS' chief sales and marketing officer, resigned. Redlick, who has nearly 15 years of experience working for NFL and NBA franchises, had only been with the Speedway since March 2011. Greg Gruning, IndyCar's executive vice president of corporate sales and the series' point man in brokering big sponsorship deals, resigned in late June.
Please enable JavaScript to view this content.