In recent years, the University of Indianapolis men's basketball team has become an NCAA Division II powerhouse.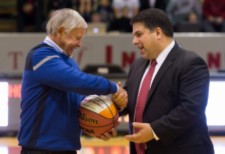 They've become nearly impossible to beat at home, amassing an 8-0 mark in the cozy confines of Nicoson Hall this year on the team's way to earning a No. 1 national rating. Over the last two years, the team is 20-1 at its home arena on the city's south side.
Next year, the Greyhounds will have a renovated home to defend thanks to local auto dealer Ray Skillman.
Ray Skillman Auto Group has pledged $500,000 to replace the basketball floor and install more effective and efficient LED lighting in the 4,000-seat Nicoson Hall, home to the Greyhounds since 1960. In exchange, Skillman Auto Group will get signage at UIndy home games, which thanks to the rising fortunes of the school's men's and women's teams are attracting larger crowds.
The UIndy men's team has reached the NCAA Division II tournament for the past four seasons under head coach Stan Gouard. The Greyhounds are 15-0 this season.
 
The women's team has reached the NCAA tournament the past three years under head coach Constantin Popa.
Skillman joined UIndy President Robert Manuel Jan. 15 to announce the gift at halftime of the men's victory over rival Bellarmine University.
The renovation work, which includes a range of improvements to the facility, will begin immediately after the current season and should be done in time for next season's tip off.
The renovated floor will be dubbed "Skillman Court," with a dedication ceremony set for the fall.
UIndy officials didn't wait for the renovations to put two large Ray Skillman Auto Group logos—including the company's web site—on the hardwood along the sides of the court. That signage was unveiled Jan. 15.
"It is quite fitting that this support comes from Ray Skillman, who shares the university's commitment to the residents and the economic vitality of this part of the city," Manuel said.
Skillman in 1979 started his auto dealership on the city's south side—with a single dealership on U.S. 31 South, not too far from the University of Indianapolis campus.
"The University of Indianapolis is a vital anchor in the community where we do business," Skillman said.  "We greatly admire the university's dedication to its students and their families, and we're delighted to partner with an institution that prepares new leaders for our city, state and nation."
Nicoson Hall, considered one of the top Division II basketball venues in the region, has hosted training camps for the Indiana Pacers and practice sessions for their NBA foes, as well as practices for Final Four and Big Ten Tournament competitors. The building is named for the late Angus Nicoson, longtime athletic director and basketball coach for the Greyhounds.
Please enable JavaScript to view this content.