Despite the unveiling Wednesday of renderings for a proposed new downtown home for the Indy Eleven, there are still more questions about the project than answers.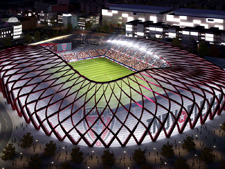 Let's start with the look, which can be seen in renderings in this post. The same day Eleven officials released the images, they said the design for the 18,500-seat stadium was merely conceptual and likely to change.
As for the details, Indy Eleven officials said it's too early to nail down things such as how many suites, restrooms, concession stands and gift shops the facility will have.
So where will it go?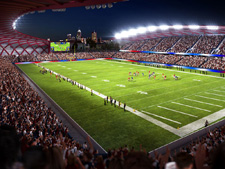 Indy Eleven General Manager Peter Wilt said there are a handful of possible downtown sites for the venue, but declined to divulge where those sites were. Wilt said 10 acres would be needed for the stadium alone and possibly more for parking.
How much will it cost?
Team estimates have settled between $82 million and $87 million—for now. On these projects, costs often escalate.
How will it be paid for?
That depends on who you ask. Team officials have favored a model where taxpayers cover most, if not all, of the costs. They propose that taxes from revenue being generated at the facility be captured and used to pay off bonds used to finance the facility.
A number of key lawmakers, however, want the Indy Eleven and team owner and local real estate developer Ersal Ozdemir to have some skin in the game. Rep. Tim Brown, R-Crawfordsville and chairman of the House Ways and Means Committee, told IBJ he favors a model where the team pays part of the construction costs.
Team officials said this week the funding mechanism will not be like previous proposals nor like the current funding bill sponsored by Rep. Todd Huston, R-Fishers, that is being considered by this year's General Assembly.
When will it open?
Team officials said they'd like the new stadium to be open in time for the 2017 season. If the funding measure in this year's General Assembly fails, the Eleven can forget that.
Who will own the venue?
Eleven officials favor a model in which the city's Capital Improvement Board owns the building. But CIB officials said they have not officially discussed that possibility, and that future upkeep is a concern.
"Indy Eleven's success last year meant great things for our local businesses and soccer fans throughout Indiana. We look forward to sitting down with its leadership and looking at their financial reports and projections," CIB President Ann Lathrop said in an email this month in response to questions about the project.
Please enable JavaScript to view this content.