The Indianapolis Indians don't open their season until Thursday at Victory Field, but the Tribe is already hotter than a firecracker on the Fourth of July.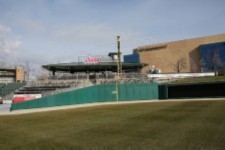 Indians General Manager Randy Lewandowski told IBJ Wednesday morning that sponsorship revenue for the team is expected to grow from just more than $2.6 million last year to a projected $3.3 million this year. Indians officials said this year's sponsorship sales will be a record high.
"Our goal for this year was $3 million and we've already beat that. We think when it's all said and done we'll be at $3.3 million or a little north of that," Lewandowski said.
It's not uncommon, he added, for sponsorship deals to trickle in during the early part of the season.
Since 2007, he said, the Indians have tripled their sponsorship revenue. And all in a less-than-stellar economy. So what gives?
First, the Indians' attendance has boomed. In 2014, the team had record attendance of 660,289, beating the previous record of 659,237 in 1998. Attendance has risen steadily since the team drew 549,552 in 2009.
But there's another reason why the Indians are attracting sponsors like bugs to an outfield light.
His name is Joel Zawacki. Not coincidently, 2007 is when the young gun joined the team out of the University of Indianapolis.
No, Zawacki isn't a star player. Well, he is a star player, just not on the field. He's a star on the Indians' sales and sponsorship team. He now holds the title of director of sales and marketing.
"He's really energized the sales staff and brought a lot of ideas. He's owed a lot of credit for our sales growth," Lewandowski said.
Zawacki and his team this year scored four big sponsorship deals.
Team officials this month announced a five-year deal making Coors Light the naming-rights partner for The Cove, which opened four years ago and was sponsored by Captain Morgan the first three years. Last year, The Cove had no sponsor.
The popular bar and premium seating area just beyond the left-field wall has become one of the most visible and popular areas at Victory Field.
"The Cove has become a great gathering space and has great signage space," Lewandowski said.
Once Captain Morgan jumped ship, Coors Light, an Indians partner for the last decade, began expressing interest in The Cove.
"It just took some time to put the right deal together," Lewandowski said.
In conjunction with snatching the naming rights to The Cove, Coors Light becomes the Official Domestic Beer of the Indians, Lewandowski added.
A new deal also was signed making Corona Light the naming-rights sponsor of the picnic area just beyond right field. Corona replaces Coors Light as sponsor of that area, which will now be called the Corona Light Beach.
While the area will be themed to coordinate with Corona Light's broader beach branding campaign, Lewandowski said visitors to Victory Field shouldn't expect to see any sand imported to the picnic area. As part of the deal, there will be Corona Light on draft at Victory Field for the first time.
Impact Networking was signed as the naming-rights sponsor of the suite level. It also agreed to be the Indians' Official Copier and Document Management Partner. The suite level was previously sponsored by Comcast Spotlight, which pulled out during the company's recent reorganization.
Chicago-based Impact is making a big push into central Indiana, Lewandowski said, and is using its sponsorship with the Indians to launch its growth plans here.
The Indians this off-seasonalso inked a deal making Indianapolis-based Elements Financial the naming-rights partner of the left-field picnic area, which Lewandowski said has been without a sponsor for several years.
"That was a big deal for us," he said, "because for quite a while we've had no sponsor there."
The Indians begin this season with a nine-game home stand stretching through April 17 and featuring games against Columbus, Toledo and Louisville.
Please enable JavaScript to view this content.