The Indianapolis Motor Speedway on Thursday unveiled a new logo celebrating the 100th running of the Indianapolis 500 in 2016.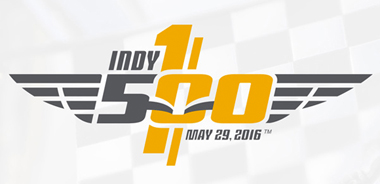 "Each year we design a new logo for the Indianapolis 500, but this year's effort has been given special consideration," said Mark Miles, CEO of IMS and IndyCar Series parent Hulman & Co. "The logo for the 100th Indianapolis 500 recognizes both our illustrious past and an even brighter future."
The Speedway hired marketing firm Mortenson Safar and Kim, which has offices in Indianapolis and Milwaukee, to design the logo.
The Indianapolis 500 was first run in 1911, but due to six years the race was not run during World War I (1917-18) and World War II (1942-45), 2016 will mark the event's 100th running. Attendance has been building since 2011, IMS officials said, and many in the motorsports community expect next year's race to draw more than 300,000 spectators.
"The Indianapolis community has shown time and time again that we rise to the occasion and get behind historical opportunities to generate results that surprise even ourselves," said Allison Melangton, Hulman Motorsports Corp. senior vice president of events.
Despite a spate of crashes leading up to this year's race—which is scheduled to be held Sunday—Miles recently said he still thinks the aero kits debuting this year can create faster speeds and more excitement next year. Some racing experts think it is the aero kits that are causing some of the issues leading to the crashes.
The IMS is expected to unleash a massive marketing onslaught leading up to the 100th running of the race. The new logo will certainly be a major part of that.
 
Please enable JavaScript to view this content.