Indianapolis native Mike Lieber is an attorney by day but also is turning out to be quite a marketer.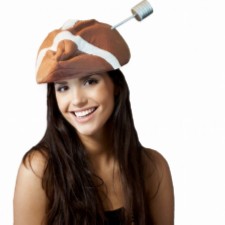 Ten days ago, he launched Illinois-based Airheadzzz LLC, and since that time his line of "DeflateGate" caps and T-shirts has gotten exposure from numerous Indy-area media outlets, as well as the Boston Globe, New York Times, Wall Street Journal and ESPN.
Friday morning the North Central High School graduate was talking with the ABC and CBS affiliates in Buffalo promoting his line of goods that poke fun at the New England Patriots and its quarterback, Tom Brady. Buffalo is a divisional rival of New England and hosts the Patriots in week two of the regular season.
Lieber, 45, launched his line of products last week at the Indianapolis Colts training camp in Anderson. That got him extensive coverage in the Indianapolis market.
On Wednesday, Lieber smartly dispatched nine people to New York wearing his DeflateGate hats to stand outside the courthouse where Brady is appealing a four-game NFL suspension for his part in deflating footballs in at least one game—the AFC championship game against the Colts.
That move spiked sales as photos of the hats appeared prominently in several New York and Boston publications.
"Sales [on Thursday] were three times what they had been the previous three days," said Lieber, who earned his law degree from Indiana University.
Next Saturday, Lieber plans to have people in New Orleans—where the Patriots play the Saints in a preseason game—to promote his line of goods.
So far, Lieber said, his new company has scored $5,000 in sales, about one-third coming from Indiana.
"We've sold product in 20 states, oddly including the New England market," Lieber said. "But Indiana is our top market so far. We think as the regular season approaches, sales will ramp up."
The products, which range in price from $18.95 to $38.95, are for sale at Deflategatehats.com. The most popular item, a hat that looks like a deflated football with a pin sticking out of it, is being made for Lieber's company by Foamation Inc., the same company that makes the iconic Green Bay Packers Cheesehead products.
Currently based in Chicago, Lieber was motivated to start his company by a desire to create something Indy area fans could wear at Brady's appearance against the Colts in week six. That's a prime-time Sunday night game at Lucas Oil Stadium.
"We have a goal of having 10,000 fans wearing our DeflateGate gear for that game," said Lieber, a self-described Colts fan.
Lieber also is hoping to broker deals with retailers to sell his DeflateGate line of goods at all stadiums where the Patriots visit this year.
The new entrepreneur isn't bent on making a huge score from his new company.
"I'd just like to break even, because we're just having some fun," Lieber said. "If we can make a few bucks in the process, all the better."
It's already been a learning experience for Lieber.
"It's really opened my eyes to what it takes to run a business," he said. "It's a whole new world for me and gives me a new appreciation for what my clients in business go through."
Please enable JavaScript to view this content.