Los Angeles Lakers star Kobe Bryant's retirement announcement has meant big business for Indianapolis-based MainGate Inc.
The Indianapolis merchandising firm began to discuss doing work for Bryant's new management team at Kobe Inc., in early September, after one of MainGate's existing clients introduced company officials to Bryant's team.
MainGate initially signed a deal to design, manufacture, and handle wholesale and Internet sales for a line of goods celebrating the five-time NBA champ's 20th year in the league. MainGate also designed and runs Bryant's overhauled web site, KobeByant.com.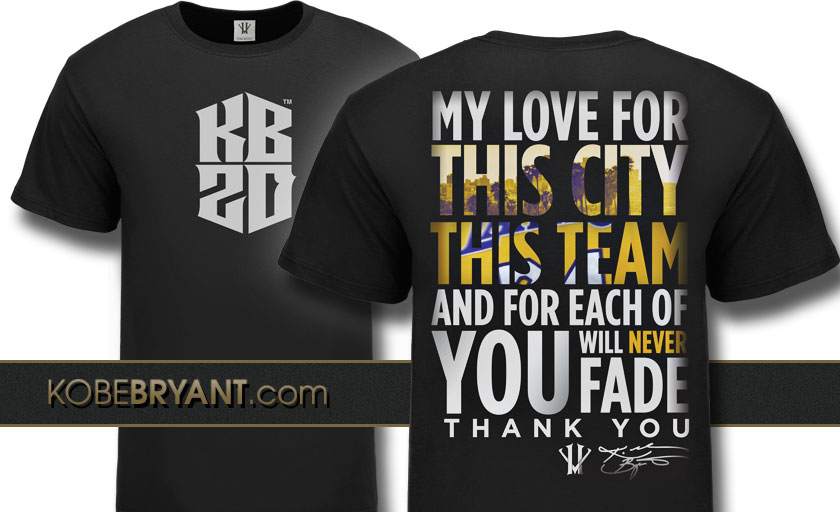 The newly designed site was to go live later this month. But last week, MainGate CEO Dave Moroknek learned the timetable was being accelerated by an unexpected development—Bryant's retirement.
MainGate went into overdrive to develop items that would not only commemorate Bryant's 20th—but also his final—year in the NBA.
Bryant on Sunday announced he would retire after this season, and at 7:30 p.m. EST that day, MainGate dropped the curtain on the new site, featuring 30 Kobe-branded items from T-shirts and hoodies to beach towels and water bottles.
The launch of the website coincided with the opening of the Lakers' home venue—the Staples Center—for the first game since Bryant's retirement announcement.
Ironically, Bryant's Lakers hosted—and lost to—the Indiana Pacers on Sunday. That hasn't stopped Kobe branded KB20 items from flying off the shelves.
"The traffic to the site since Sunday has been unbelievable and sales have been really strong. And sales continue to be very strong," Moroknek told IBJ Tuesday afternoon.
MainGate has a staff of 10 people and five computer servers handling the throngs of visitors to the site.
Items from the KobeBryant.com ecommerce site have been sold to people in 31 U.S. states and seven countries since Sunday's unveiling of the KB20 line of goods.
The No. 1 sales item so far, Moroknek said, is a T-shirt designed and manufactured by MainGate at the 11th hour. Emblazoned on the shirt is a statement by Kobe which reads: "My love for this city, this team, and for each of you will never fade. Thank you." Bryant's signature is below the quote.
Most of the items on the site cost between $25 and $50.
More items are being added to the site each week, Moroknek said, and the line of goods will be dramatically expanded in the spring to include a line of "heroes/villain" branded items. Moroknek declined to elaborate on that line of goods.
"It's a brand that [Bryant] is developing and you'll see more of that late in the NBA season," Moroknek said. "The line will include a broader array of items and higher-end items."
The heroes/villain-themed line, Moroknek said, "emulates all of the things that make Kobe the great player and person that he is. It will become very clear why that's the brand he is moving forward with."
The sales of KB20 items in the first 48 hours since the site opened, Moroknek said, have been comparable to the merchandise sales in the immediate aftermath of the Indianapolis Colts AFC championship victory en route to Super Bowl XLIV in 2010.
MainGate handled online sales and two retail stores for the Colts until Lids Sports Group took over that account following the 2014 season.
Moroknek declined to detail the financial arrangements of the deal between MainGate and Kobe Inc, but said "it's much more of a true partnership—more of a joint venture" than the typical deals his company does with teams, sports leagues and other organizations.
MainGate's original deal with Kobe Inc. has now been expanded into a multi-year deal with the Indianapolis-based company handling merchandising for the hoops star throughout his farewell NBA tour and at least through the early phases of his retirement.
Founded in 1963 and bought by Moroknek in 2002, MainGate has a burgeoning reputation working with various NFL and NBA teams. It has handled merchandise operations at several Super Bowls since 2011 and also has a strong presence in motorsports.
The pact with Bryant is the first time MainGate has done a merchandise deal with a single athlete.
Bryant said he started making plans for his career after basketball when he tore his Achilles tendon in 2013. In the spring of 2014, he unveiled his new company, Kobe Inc., which he staffed with alums from Gatorade, Nike and global sports marketing firm GMR to begin making a serious push into the business world.
"We want to own and help grow brands and ideas that challenge and redefine the sports industry while inspiring," Bryant told ESPN last year. "If it doesn't have the limbs of the sports industry, which I understand extremely well, then I probably won't touch it."
Please enable JavaScript to view this content.