College basketball clothing providers Nike, Adidas, Under Armour and Russell are hoping to win the exposure game during this year's men's NCAA hoops tournament.
Millions of dollars are at stake, with the amount escalating each round.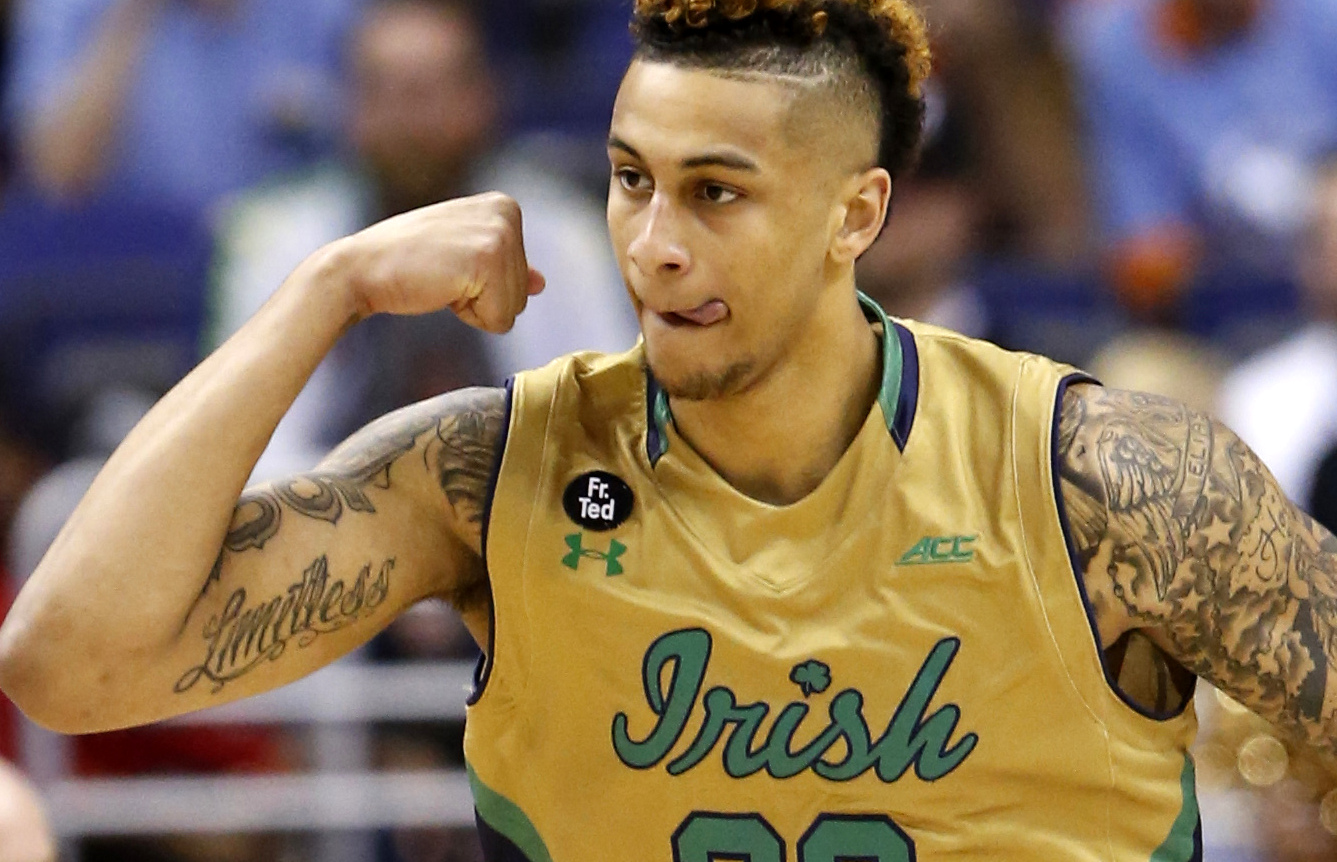 Notre Dame, however, isn't giving its clothing partner, Under Armour, as big a bang for its buck as Indiana, Purdue and Butler are giving theirs, according to one research firm.
In this year's tournament, 41 of the teams will wear Nike branded uniforms, 14 will wear Adidas, 10 will wear Under Armour, and three will wear Russell.
If a single team wearing its brand makes it to the championship game, the clothier can earn $34.1 million in exposure, according to Michigan-based Apex Marketing Group Inc.
Unless you happen to provide Notre Dame's uniforms. While Nike would get max value if Purdue or Butler make it to the championship game in Houston, and Adidas would get max value if IU makes it, Under Armour would get only $27.2 million in value if the Irish shoot to the title game.
"Notre Dame's logo gets lost. I don't know if it's the lighting in the arenas or what, but it just doesn't have the pop of a lot of other teams," said Eric Smallwood, Apex Marketing managing partner. "With a green logo on a gold jersey, there's a lot of color bleed and that plays into it. It's a lot better if they wear white jerseys."
The logo-jersey combinations of IU, Purdue and Butler have much better contrast and show up on TV better, Smallwood said.
Under Armour's value on Notre Dame uniforms is further compromised by a memorial logo right above the clothier's.
Athletic apparel companies pay plenty to get these deals with big-time schools, and exposure is a big part of the return they expect.
For instance, IU signed a deal with Adidas last summer that has the shoe and apparel maker paying the school $53.6 million over eight years, or $6.7 million a year. Nike pays Purdue $2 million annually. Notre Dame and Butler, both private schools, don't disclose the value of their shoe and apparel deals.
The projected value the logos bring the company is based on how the games are shot, camera angles, logo placement and how the logo appears on television screens, Smallwood explained.
Even though the likes of Nike, Adidas and Under Armour are afforded only a two-inch logo on the upper chest, Smallwood said the massive TV exposure of the tournament drives enormous value.
"We calculate the amount of time each logo appears on the screen and the value is based on the average cost of a 30-second advertisement," he said.
The jersey logo is highly visible, Smallwood added, while players shoot free throws, during time outs and on the sidelines as well as in slow-motion replays. Each uniform provider is also allowed a logo on the shorts, but Smallwood said that logo rarely makes it on the TV screen and plays only a small part in the total value.
Not surprisingly, Apex studies show each round of the tournament is worth more than the previous one. Below is a breakdown of what each round is worth for the uniform providers of IU, Purdue and Butler. Notre Dame—in their green jerseys—is the bracketed number.
First round, not including first four round: $475,398 [$309,009]
Second round: $1.67 million [$1.08 million]
Sweet 16: $3.46 million [$2.59 million]
Elite Eight: $6.36 million [$4.77 million]
Final Four: $9.1 million [$7.54 million]
Championship: $13.1 million [$10.87 million]
Please enable JavaScript to view this content.