Crooked Stick Golf Club is ready to tee off for an event this fall that will draw the world's 70 best golfers, 150,000 fans and have a $30 million economic impact on the region.
Several major changes have been—and are being made—to the legendary Pete Dye course and spectator areas for the 2016 BMW Championship, which will be held at the private Carmel course Sept. 8-11. Two practice days that are open to the public will precede the tournament.
The tournament will mark the first time America's newest and arguably brightest golfing star, Jordan Spieth, has played in a PGA Tour event in Indiana, which should ratchet up interest in the event, organizers said. They promise to be ready for the influx.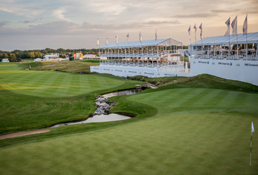 Since 2012, the BMW Championship has introduced luxury boxes that will be included among fan options at Crooked Stick. (Image courtesy BMW Championship)
Crooked Stick is adding 30 luxury boxes—some in double-decker formation—along the 17th green for the event. The boxes come with 25 tickets per day for the six-day event and sold for $50,000 each, including food and beverage. They sold out so quickly that the course is constructing more near the 14th green. Those are fetching $48,500, with five sold so far and room for five more.
"The sky boxes were introduced at the event in Chicago and Denver and were successful, so we wanted to offer them here," said Sally White, 2016 BMW Manager.
In 2012, when the BMW Championship was last held at Crooked Stick, the only corporate hospitality offering was private tents that came with 75 tickets per day. Corporate tents will be offered again this year.
"The demand for the new sky boxes has been very, very strong," White said.
Another new feature for the event is the 1899 Club, which also is along the 14th green. The Club, which has a capacity of 88, offers stadium seating. Tickets—which include food and beverages—sell for $425 on Thursday and Friday and $475 per day on Saturday and Sunday.
Dye himself has been involved in making course enhancements to make Crooked Stick, which was built in 1964, more difficult for the PGA Tour professionals while still allowing the club's 225 amateur club members to enjoy the course, said Tony Pancake, Crooked Stick general manager and director of golf.
"We don't make any changes to the course without Pete's involvement," Pancake said.
The most recent work on the course began in 2014 and includes overhauling 90 sand traps with new sand and improved drainage, and adding seven bunkers along the seventh and 10th holes.
"Those bunkers were added in the 300-yard range from the tee where a lot of PGA pros hit the ball," Pancake explained.
A lake was added along the left side of the 17th hole. The tee boxes on the third, 10th and 13th holes also were re-done. "Those holes will play longer than in 2012," Pancake said.
The course also removed several trees to improve air flow and bring in more sunlight, and added 10 miles of new drainage.
In 2012, some players and media members complained Crooked Stick was too easy for the world's best pro golfers. Rory McIlroy won that event with a 20-under par score.
"We want the course to play firm and fast," Pancake explained. "That makes it more challenging."
"After 2012, there may be a misperception that Crooked Stick is not challenging enough," White said. "It's all a matter of how the course is set up. We believe this course definitely has some teeth."
In all, the course enhancements in preparation for the 2016 BMW Championship cost more than $3 million, Pancake said. The money came from a combination of sources, including tournament revenue and member contributions, he added.
Spectators who attended the 2012 BMW Championship are likely hopeful the overhauled course isn't the only thing that plays fast. There were numerous complaints about traffic jams and a sluggish shuttle system four years ago.
Event organizers are promising to streamline parking and transportation to get the multitude of spectators to and from Crooked Stick.
White said enhancements to the transportation plan include accommodations for taxi cabs and Uber rides. Plans for changes to the shuttle system and traffic plan are being finalized and will be announced in four to six weeks.
Coxhall Gardens at 2000 W. 116th St. will be used for parking and shuttling spectators to and from Crooked Stick again this year, but White said the transportation plan will be "a little different."
"We're still fine tuning the parking and transportation plan," White said. "Parking for an event like this is very challenging for a venue built for 225 members. We do think it will be better from an efficiency stand point this year."
In addition to the 2012 BMW Championships, Crooked Stick hosted the 1991 PGA Championship won by John Daly. The course also hosted the 1993 U.S. Women's Open, 2005 Solheim Cup and 2009 U.S. Senior Open.
Pancake promises the club will continue to pursue major golf tournaments.
Please enable JavaScript to view this content.