The museum at the Indianapolis Motor Speedway has changed its name and unveiled a new logo, with more changes to come.
The Hall of Fame Museum is now known as the Indianapolis Motor Speedway Museum, and the new logo includes the image of the man waving a checkered flag atop the Borg-Warner Trophy, which is awarded to the Indianapolis 500 winner.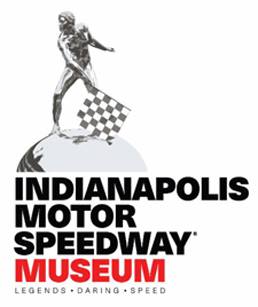 The new logo uses iconography from the Borg-Warner trophy. (Image courtesy Indianapolis Motor Speedway)
The new name speaks to the "unrivaled collection of automobiles and racing artifacts," according to a press release on Thursday announcing the change. "Adding the image of the Borg-Warner Trophy and bold letters and colors represents a first step at enriching the visitor experience to the world-renowned raceway museum."
"Recent surveys from leaders in Indianapolis, the museum community, and racing world along with focus groups with the pubic told us that we have tremendous name recognition with the Speedway," Betsy Smith, Indianapolis Motor Speedway Foundation executive director, said in a prepared statement. "While we will embellish the honoring of our Hall of Fame members in our museum redesign, the current name caused confusion with multiple Hall of Fame museums around the world."
The museum also recently launched a new website that museum board members said would provide improved navigation and functionality for race fans.
Museum officials are promising to make the attractions inside the facility located on the south end of the track more interactive and said the new website has been designed with that interactivity in mind.
"The new name and website are just the beginning," museum board member Robert Dyson said in a statement. "The Indianapolis Motor Speedway Museum is undergoing a revitalization, and we are now focusing on how to make major changes in the museum and visitor experience, including interactive exhibits that tell the stories of the drivers and their cars and immerse visitors in the experience of the Indy500 and the rich history of the Indianapolis Motor Speedway."
Speedway officials still are determining the full scope and cost of the museum project.
The IMS has been under increasing pressure to improve its museum since NASCAR opened its $160 million state-of-the-art museum in Charlotte in 2010. Even before that, IndyCar fans had been calling for more interactive elements and technology to be incorporated into the largely static facility.
 
Please enable JavaScript to view this content.