Two Indianapolis firefighters—Rita Reith and Ross Meyer—will be a part of a history-making team Friday competing in the Indianapolis 500 Pit Stop Challenge.
A crew that includes two U.S. Navy Seals, four firefighters—one each from Chicago and San Diego and the two from Indianapolis—and New York City's most decorated police officer will be the first group composed entirely of non-IndyCar Series crew members to compete in the Pit Stop Challenge.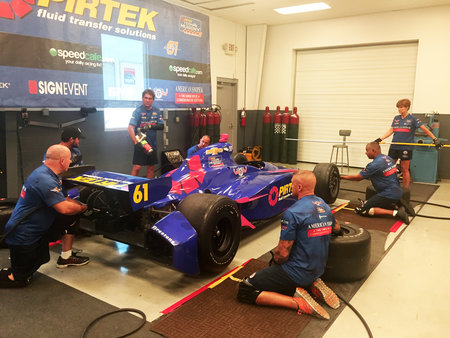 This year's contest will be Friday at the Speedway's Carburetion Day.
Pirtek Team Murray 61 will compete with driver Matthew Brabham and will go up against 32 pit crews for teams racing in Sunday's 100th Indianapolis 500. The crew with the fastest time wins $50,000. Brabham's regular pit crew will sit out the competition.
If Team Murray 61 wins, they'll donate their winnings to the Chris Kyle Frog Foundation. 
Chris Kyle was a Navy Seal veteran with the most sniper kills in U.S. military history confirmed by the Department of Defense. He was killed in 2013 by a U.S. military veteran he was trying to help. Kyle's foundation, set up by his widow, Taya, is focused on helping military veterans and first responders enrich their family relationships.
Winning the competition won't be easy for Team Murray 61, which began training for the event under the guidance of Pit Fit staffers just less than two weeks ago.
Team Penske's crew for Helio Castroneves won the 2015 Pit Stop Challenge with a time of 13.2 seconds.
From time to time, there has been a single guest pit crew member on a team, but never a team made up completely of guest crew members. 
"I think this crew has a very good chance of winning," said Chris McFadden, who is training the group for Pit Fit, which trains a number of IndyCar drivers and pit crew workers. "They've been putting in the hours training for this event, and the first responders and military vets we have are exceptional at working as a team. And they're no strangers to working under high-pressure situations, so I think they'll be very competitive."
The history-making pit crew challenge team was the brainchild of 48-year-old Aussie Brett Murray, who also put together Brabham's team for this year's Indy 500. 
Murray runs Bam Group, a company that organizes, promotes and operates various events. Murray, who picked up the nickname "Crusher" while playing American-style football, worked with Chris Kyle Frog Foundation boss Stewart Smith on several projects.
"We put this team together with the idea of extracting the most good out of [our Indy 500 team] as we could," Murray said. "We think helping military veterans and first responders in any way we can is a very worthy cause. So we talked to the Speedway about the idea of having a wild card team in the [Pit Stop Challenge], and they loved it."
In addition to offering to donate the Pit Stop Challenge winnings to Kyle's foundation, Murray is also donating all the profits from team merchandise sales. Murray said he's bringing about 500 military vets and first responders as his guest to the track this week. He'll have more than 120 with him for Friday's Carb Day and Sunday's race.
Meanwhile, Team Murray 61 is planning to do some practice runs with Brabham on Thursday and continue training up to the event.
"We believe in training how you fight," McFadden said. "We're not sitting around in tank tops and flip flops. We're gearing up."
Reith, who serves as IFD's public information officer, said the teamwork on display with Team Murray 61 is reminiscent of what she sees with the city's fire department.
"As first responders and military veterans, there are definitely some experiences we can draw on for this challenge," Reith said. "We have a common bond and a common goal and it's been great to see this group come together in a relatively short period of time. On Friday, I expect this team to be ready to go."
Please enable JavaScript to view this content.