In the three weeks leading up to the Brickyard 400 on July 24, Indianapolis Motor Speedway Vice President of Events Allison Melangton will be working 16 hours a day.
But those will be relatively light days compared to the hours she'll work in August in Rio de Janeiro.
This summer, the former head of the Indiana Sports Corp. and 2012 Super Bowl Host Committee will work her ninth Olympic Games. Since 1996, she has worked as an associate producer for the gymnastics competition telecast. This year she's a contractor for NBC.
"My main role is to integrate the gymnastics competitions into the TV broadcast," Melangton said. That includes the competition itself, athlete profiles and features on the host city and other elements of this year's Olympic Games.
A week after the Brickyard, Melangton will arrive in Rio and begin work the next day—Aug. 1. The opening ceremonies are Aug. 5, and the gymnastics competition begins Aug. 6. Before the first balance beam is walked or floor exercise is executed, it's Melangton's responsibility to put together the broadcast schedule and decide where cameras are pointed and when.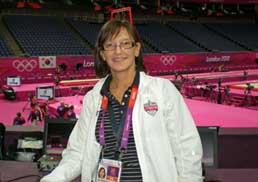 After heading the Indianapolis Super Bowl Host Committee in 2012, Melangton went to London to work on the Olympic Games broadcast. (Image courtesy Allison Melangton)
That means studying endless hours of various teams' training sessions and drawing up copious charts to predict in what order things will happen and who the medal contenders will be.
"We hit the ground running," Melangton said.
One injury or one bad performance by a top gymnast changes everything.
"It's a massive, complicated puzzle to try to determine who's on what apparatus at what time and project who's going to be leading at what time," said Melangton, who will be on the floor during competition communicating back to the production truck.
"I have to be able to see [the competition] with my own eyes," Melangton explained. "You have to study a lot and be prepared and set with what you're doing, yet be very nimble as things change."
With four events going on at once for the women and six for the men, keeping close track of the live competition is no easy task.
Melangton, who will work 20 hours a day during the busiest five-day stretch of the men's and women's competitions, has become known as one of the best at what she does at the Olympics.
That's no surprise to those who know her work organizing events here, including the 2012 Super Bowl, which ushered in several new host-city features including the Super Bowl Village concept.
She said the key to the long hours is drinking lots of coffee and catching a 10-minute catnap here and there.
"You'd be surprised how much just 10 minutes of sleep—just napping in a chair—can energize you," she told IBJ.
Melangton joked that there will be time to catch up on sleep when she returns to Indianapolis Aug. 18.
"I may be a bit jet-lagged," she said with a laugh.
Melangton has been a part of an NBC production team that has won Emmy Awards for its live gymnastics coverage at the last five Olympic Games.
"I've been fortunate enough to work with a great team," Melangton said. "Much of that crew has been together since 1996."
Those familiar with NBC's Olympic gymnastics production said the tireless Melangton is a big part of its success.
In 1984, Melangton started at the bottom—as a production assistant—for ABC. She got her foot in the door as an employee of USA Gymnastics, where she worked from 1983 to 1994 and rose to the rank of senior vice president.
"I loved it," Melangton said. "That was the year Mary Lou Retton won the gold. The bug bit me."
In 1988, she worked as part of the U.S. Olympics gymnastic delegation, and in 1992 she worked as part of Atlanta's organizing committee. Since 1996, she's worked on the gymnastics television broadcast.
All that experience, she said, has helped her plan events in Indianapolis.
"At every major event I learn something," Melangton said. "I always have a critical eye open. I've definitely been able to take the things I've learned at each Olympics and put them to work at home."
The Super Bowl Village and its popular zip line were just two ideas she gleaned from her Olympics experiences. She also used those experiences to make enhancements to activities at this year's 100th running of the Indianapolis 500, where she headed up the Snake Pit and other activities.
Despite the somewhat chaotic atmosphere in Rio right now and concerns that the Olympic Village and venues won't be complete, Melangton is convinced it will be a great event.
"Rio reminds me of Athens in 2004," she said. "In that last week, it was incredible how much work they got done. The International Olympic Committee will be there to make sure everything gets done. There's too much at stake for it not to get done."
Please enable JavaScript to view this content.