Former Mayor Greg Ballard might not have been as crazy as some people thought when he proposed Indianapolis could make a name for itself as a cricket hotbed.
CricIndy League, a local not-for-profit, is hosting its second annual cricket tournament on Saturday at the Chuck Klein Softball Complex, fielding teams from several Fortune 500 companies.
The tournament has grown from eight teams in 2015 to 10 teams this year. Event founder Feroz Syed said he expects as many as 16 teams next year for the single-day, round-robin tournament that also includes cricket's version of the home run derby.
Oddly, the tournament is not being held at the city-owned Indianapolis World Sports Park on Post Road. Ballard was roundly criticized for paying nearly $6 million to convert the park land into fields for cricket, rugby, hurling and Gaelic football.
"We wanted to host the final under the lights, and we also wanted the ability to play three [matches] at once," said Syed, senior vice president of locally based STLogics, one of the event's primary sponsors. "We couldn't do that at the World Sports Park. Plus, they have a very nice pavilion at the Chuck Klein Softball Complex which is great for spectating and entertaining. It's a beautiful facility."
But as the event grows, Syed said he may have to look for a bigger venue than the current home of the event at 4702 Rockville Road.
Ballard contended that making Indianapolis a U.S. cricket hub could help draw more global companies here and help local firms attempting to attract workers from around the globe. Syed thinks that strategy is a solid one.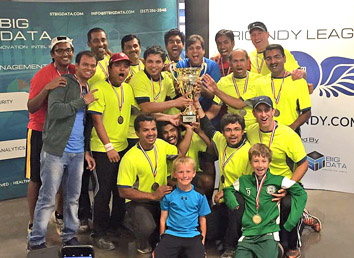 The team from Dow AgroSciences won the 2015 tournament.(Photo courtesy CricIndy League)
Competing in the CricIndy event on Saturday are teams representing Cognizant Technology Solutions, Deloitte, Dow AgroSciences, Eli Lilly and Co., National Government Services, Roche Diagnostics, Salesforce, Telamon Corp., UST Global and STLogics. (The Fortune 500 firms are Cognizant, Lilly, Salesforce and Dow AgroSciences, which is part of Dow Chemical Co.)
"We have had a lot of companies, [Columbus-based engine maker] Cummins and others, calling within the last couple of weeks wanting to field a team in this year's tournament, and we've had to turn them away," Syed said. "Next year, as word of this event spreads, we expect significant growth."
Teams pay a $450 registration fee which goes toward uniforms, tournament organization, side activities and food.
"This is a family event and we have a lot of activities for the entire family," Syed said.
But, he added, there's also a business component to the event.
"The companies taking part in this tournament are mostly Fortune 500 companies, and this is a great place to get together to meet each other and to network," he said. "It's also a great place for companies to pull their own employees together and meet some of their co-workers they've never met before. There are lots of healthy [business] conversations taking place at this event."
STLogics spokeswoman Cori Lahm said her company got behind the event to promote cultural diversity.
"STLogics is a minority-owned and woman-owned business, and we pride ourselves on diversity," Lahm said. "We like the idea of bringing people of all kinds of backgrounds together to celebrate and play a game they love."
Syed, a self-described cricket super-fan, admitted to being surprised at how much the event has been embraced locally and how quickly it has grown.
"The interest in the first year was a surprise not just to me, but a lot of people," Syed said. "It just goes to show you that cricket is such a popular international sport, and Indianapolis and the companies here are becoming increasingly global and diversified, and that interest in the sport has grown a great deal here."
There will be numerous players in the tournament from India, England, Australia, New Zealand and other far-flung locations, Syed said. There will also be several American players, he added.
"We have two guys on the [STLogics] team that are huge baseball fans, and they've learned the game of cricket and come to love it too," Syed said. "I think this sport can have a very wide appeal here."
The city last May hosted the International Cricket Council's America's Division One Twenty20 tournament at the World Sports Park. The tournament featured teams from the U.S., Canada, Bermuda and Suriname and served as a qualifier for the world championships.
Please enable JavaScript to view this content.